Insight into history and content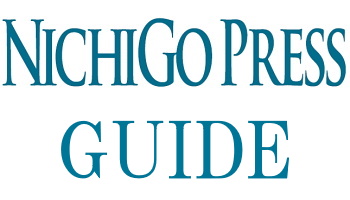 Headquartered in Sydney, Australia, Nichigo Press was established in 1977 and is Australia's longest-running Japanese language newspaper. The print and online news service provides Australia's Japanese community with the latest national and international news, as well as information on local upcoming events. In 2020, Nichigo Press, under the operation of the Nichigo Press Media Group, saw a revamp from its tabloid-style publication with a history spanning over 40 years, and became a full-colour magazine. Keep reading to find out more about the re-branded Nichigo Press.
1. About Us
A free newspaper loved by all of Australia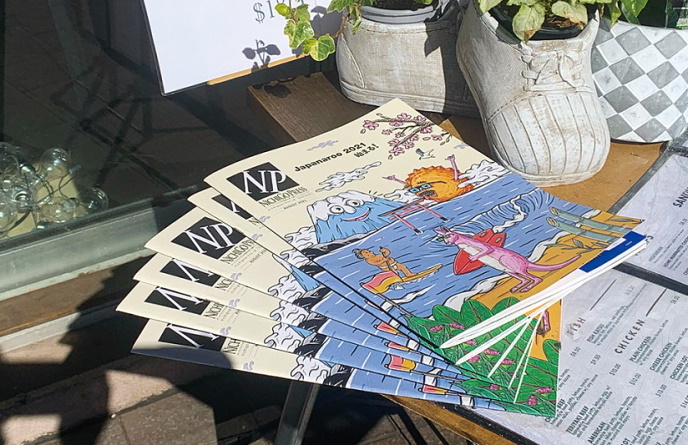 The hardcopy edition of Nichigo Press contains a wide variety of content such as interviews with celebrities active in Australia, event and entertainment information, and business-related articles.
Alongside the monthly publication are also jStyle—an English-language magazine to introduce the wonders of Japan to Australians, and jSnow a magazine focused on everything snow-related in Japan.
August 2021 saw the publication's official move into offering English-language articles, about topics such as Japanese food and culture, as it continues to grow and develop as a bilingual magazine. Nichigo Press is released on the 25th of every month, with 10,000 copies printed and placed in 450 locations all over Australia including government institutions, Japanese supermarkets, restaurants, hairdressers, and educational institutions for anyone to grab a copy.
Check out our website for distribution spots!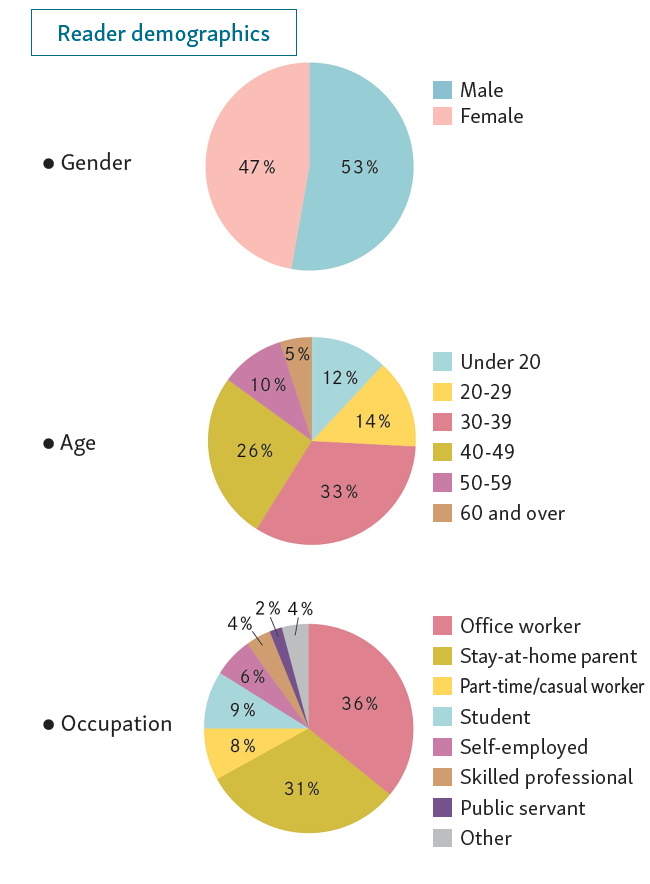 Nichigo Press Online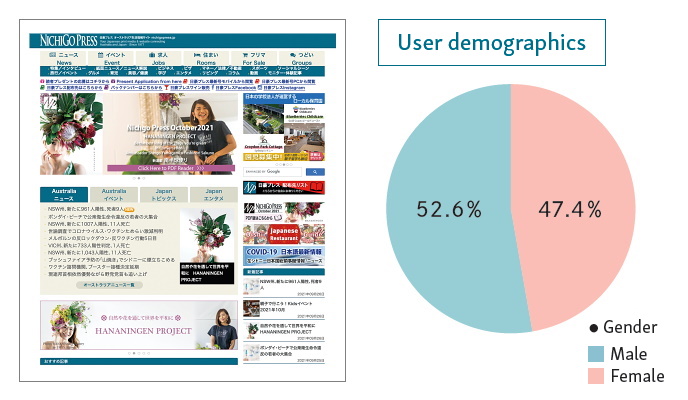 Over at Nichigo Press Online, the official website run by Nichigo Press, readers can find the latest content, updated daily, covering Australian news and lifestyle information in Japanese. Approximately 110,000 unique users from both Australia and Japan visit the website every month.
The website also features a Classifieds section for users to interact with each other. Post job ads and real estate info here for free, and find a range of essential information about items to buy/sell, recruitment for clubs and groups, and plenty more!
Find us on Facebook and Instagram!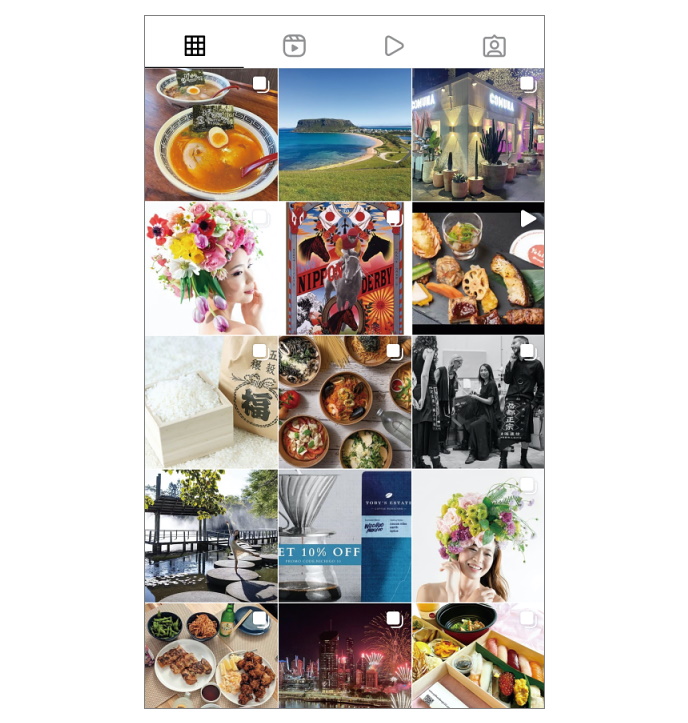 Nichigo Press is the most-followed Facebook account amongst Japanese media outlets in Australia, with approximately 12,000 followers of the official Facebook account. The page is updated every day with the latest news about Australia and Japan.
The official jStyle Facebook account, featuring English-language posts about Japan, has approximately 8,500 followers, bumping up the outlet's total reach to over 20,000 users. Check out our official Instagram account for stunning photos and exciting stories posted regularly!
2. Overview
The various Nichigo Press publications and the official website are packed with content covering various genres and categories. Features include the interviews with celebrities and specialists active in a range of fields, as well as lifestyle, food, and event information. English-language features for local readers can also be found across the different media formats.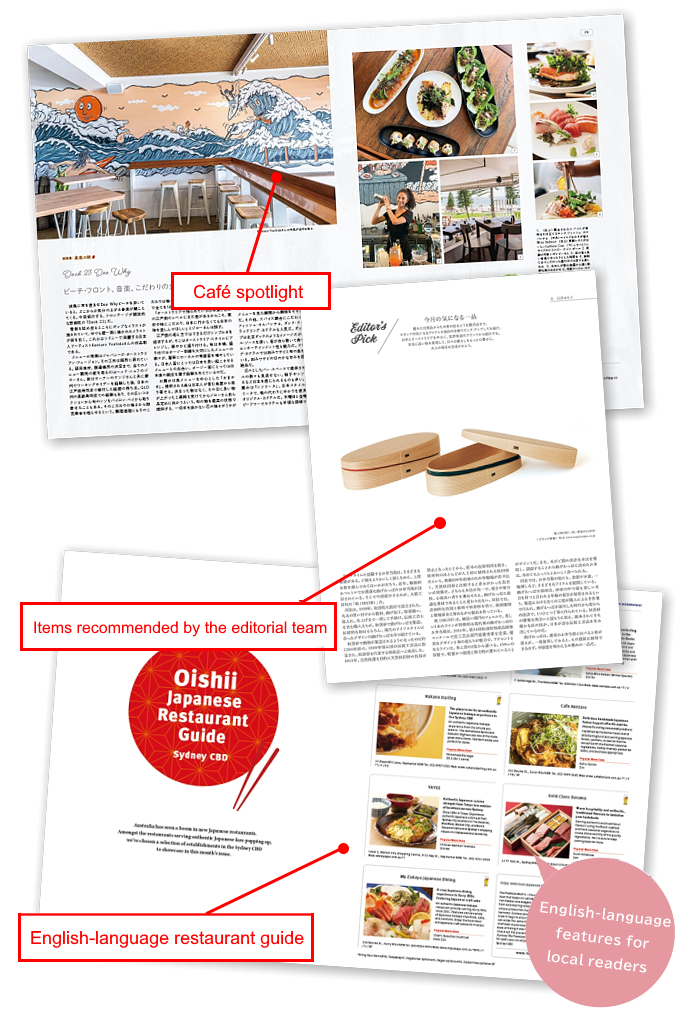 Other corners include community news, and columns from experts in various fields such as real estate, visas, education, sports, and culture.
3. Our Services
Nichigo Press features a range of advertisements to appeal to anybody who grabs a copy, from back-cover ads to sponsored content. Whether you're looking for conventional advertisements or sponsored articles to spruik your products or services, we have you covered.
Case study #1: Harding Legal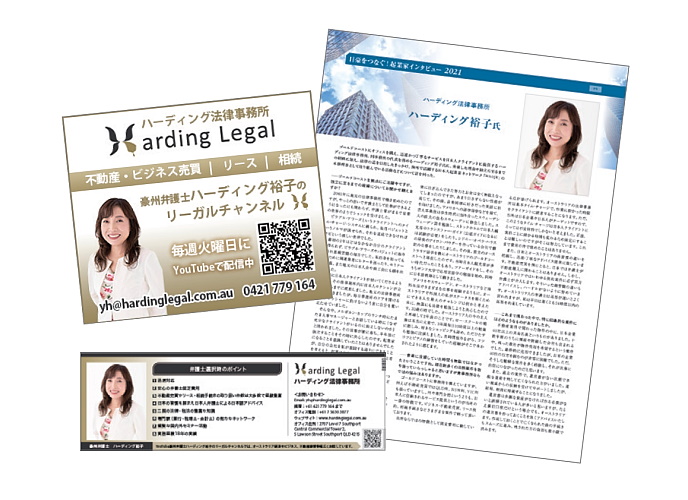 A dynamic foray into marketing through a mix of different media by appearing in an interview corner on the publication and website, as well as utilising ads on the website.
<Insight from the client>
I was given an explanation on how effective advertising through the Nichigo Press publication and online could be, and was provided with a detailed marketing plan. The team was happy to discuss with me until I was satisfied and I think the final ads look great.
Case study #2: YAYOI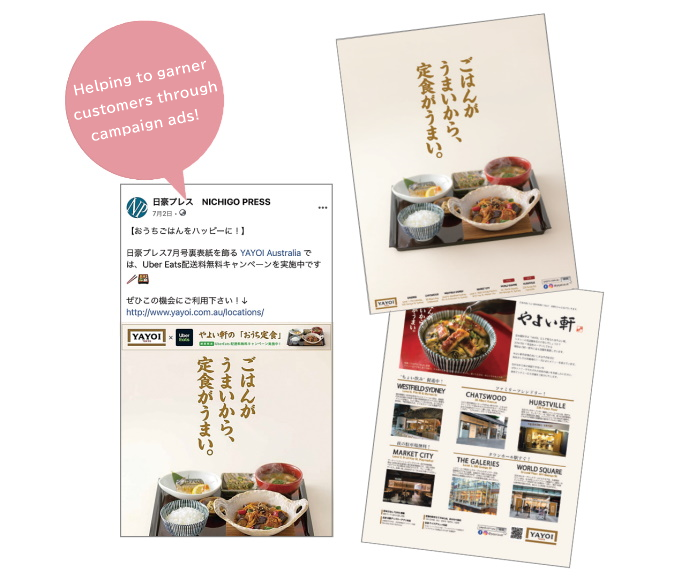 Used the back cover of Nichigo Press, the website, and social media in a cross-marketing effort to increase awareness of new restaurant openings and garner customers for delivery during the COVID-19 pandemic.
<Insight from the client>
We've seen an increase in Japanese customers through our ad placements in Nichigo Press. The company was very responsive during lockdown and put together proposals tailored to us.
Expanding our reach!
Nichigo Press is available for free in NSW, QLD, Vic, WA, ACT, and SA. Follow the link to find your nearest distributor!
Subscription
Click the link to sign up for a subscription and have Nichigo Press delivered to you without needing to visit a distributor.
Ad placement
We'll put together proposals to suit your needs through the various services we provide. Contact us via the link here.