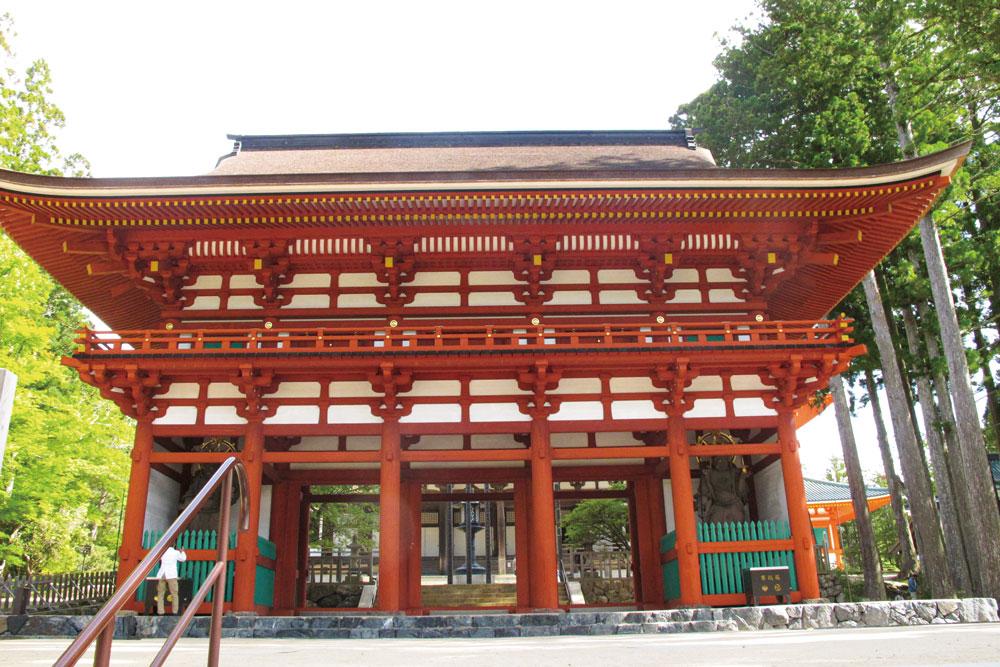 A SACRED REGION THAT GAVE BIRTH TO RELIGIOUS FAITH
Words and Photography: Yuriko Ishii
Located in the depths of Mother Nature, in a vast world of holiness lies Koyasan – a highly accessible Buddhist settlement in Wakayama Prefecture approximately 85 kilometres south of Osaka. This article showcases the many joys that can be experienced on a two-day Koyasan trip.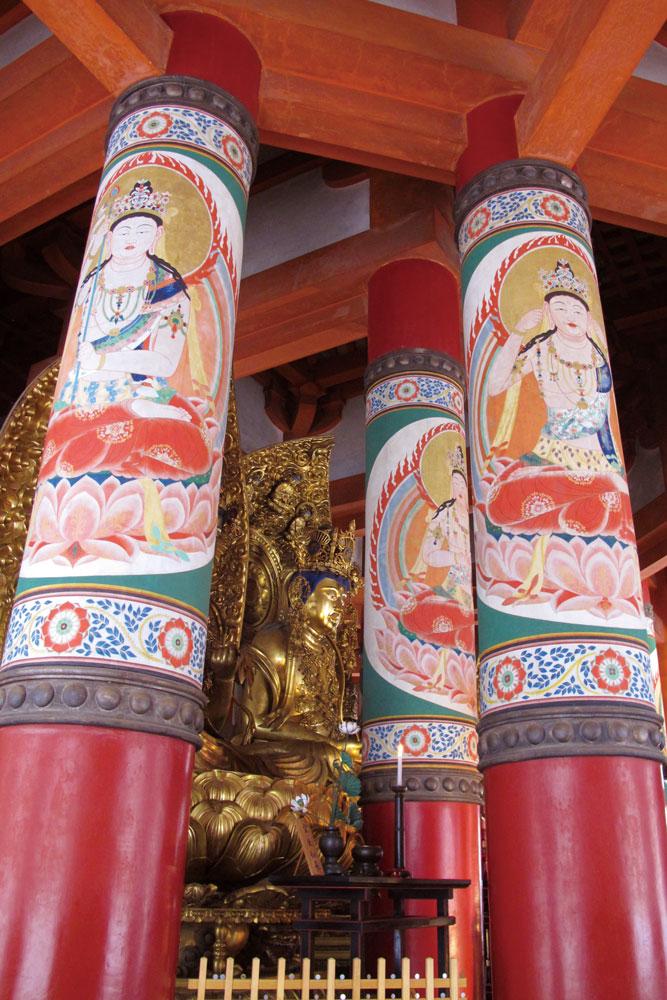 All Aboard the Train for an Amusing Ride Through Mountainous Greenery
The starting point of my trip was the secondlargest city in Japan, Osaka, which can easily be accessed by hopping onto a direct flight from Sydney or Melbourne to Kansai International Airport. I departed from Namba Station, in central Osaka, at 9 am and then boarded the Nankai Electric Railway train for a 50-minute journey to Hashimoto Station. From Hashimoto Station, I then headed towards Gokurakubashi via a sightseeing train called "Tenku", which connects directly to the cable car at the base of Koyasan. The large windows on the train car grant expansive views of mountains and rivers as the train maneuvers its way through mountains with steep gradients and sharp curves. Another charming feature of the train is the observatory deck that opens your eyes up to the surrounding views of bright yellow canola flowers and rows of cherry blossom trees in spring. Before I knew it, my 40-minute ride on the uniquely designed train was over. After arriving at the distinctively vermillion lacquered Gokurakubashi, I jumped onto the cable car to climb 328 metres up to Koyasan Station. Upon reaching the retro-looking station, I proceeded to take the Nankai Rinkan Bus into Koyasan.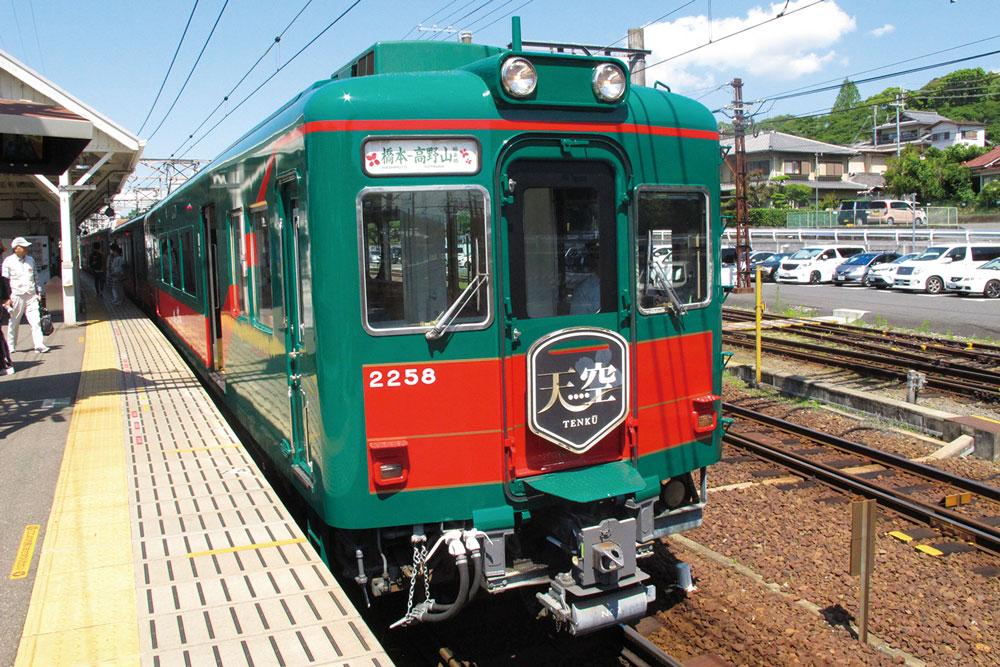 From Naka no hashi to Okuno-in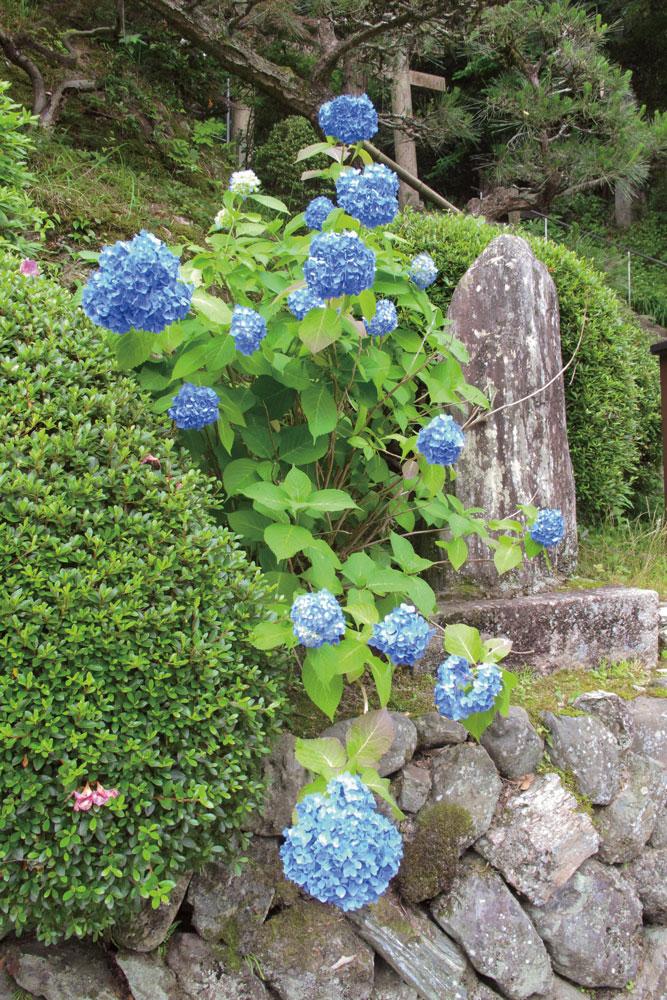 After hopping off the bus at Okunoin-mae and progressing from Naka no Hashi towards Okuno-in, the first thing I laid my eyes on was the slogan of Koyasan – "live life to the fullest". While the common teachings of Buddhism speak of entering Nirvana upon one's death, this slogan reflects the mantra of the Shingon School of Buddhism as preached by Kobo-Daishi Kūkai, where one can attain enlightenment whilst still alive. The Okuno-in cemetery is lined with gravestones of not only the general public from Japan and abroad, but also those of people from companies representative of Japan such as Nissan, Panasonic, and Sharp. Alongside these gravestones, there are also others that honour the victims of disasters such as the Great Hanshin earthquake and the 2011 Tohoku earthquake and tsunami. The cemetery led onto a lush green road that connects to a shrine and it was here that I was met with a solemn air of awe. Okuno-in is a sanctuary where all followers of Kobo-Daishi Kūkai can visit and set up their own graves regardless of status, ranking, or denomination. This is clear when seeing the vast number of graves celebrating the lives of historical figures as well as other uniquely shaped graves and memorial towers. Further along, across the sacred Gobyo no hashi (bridge), and atop the stone steps stands the magnificent Toro-do (lantern hall). Okuno-in is known as the home of the very cave where Kobo-Daishi Kūkai rests and remains in a state of eternal meditation. The Kobo-Daishi Mausoleum stands within short proximity of the cave as the closest location where people can worship.
Experiencing Meditation at Ekoin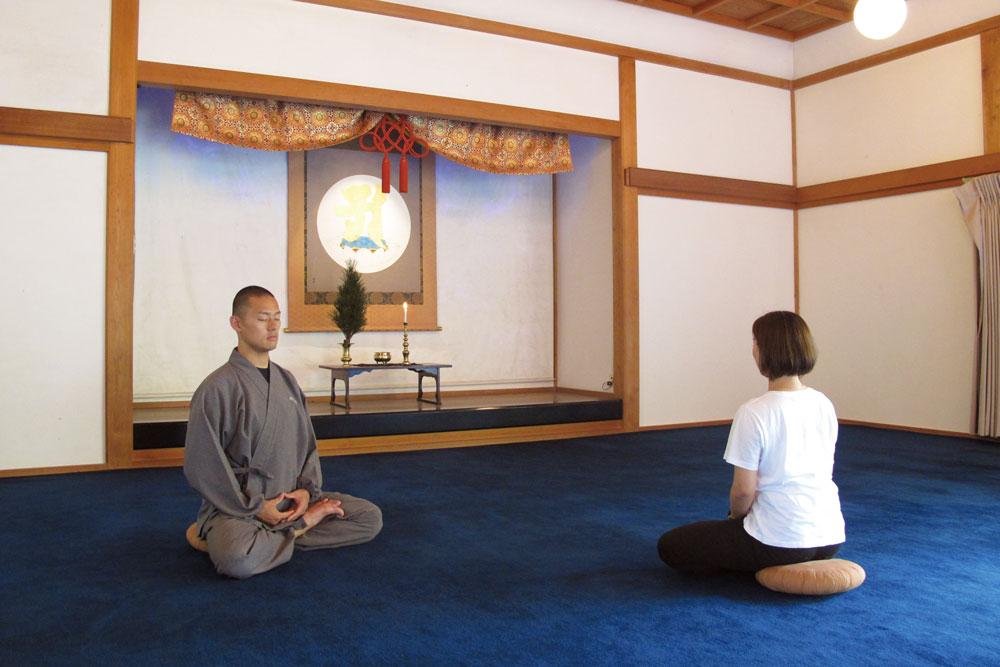 I headed over to Ekoin after a stroll around Okuno-in and then crossed off a forest walk and satisfying lunch off my to-do list. At Ekoin I had the pleasure of experiencing "ajikan", a form of meditation taught in Shingon Buddhism that was spread throughout Japan during the Heian period by Kobo-Daishi Kūkai. Although this form of meditation was originally to help calm the minds of monks, ajikan has become a form of meditation taken up by people from all walks of life as the ultimate form of relaxation due to its simplicity – all that is required from participants is that they sit with their hands and legs crossed.
Before entering the temple, you must first cleanse your body. Next, take a pinch of zuko (incense powder) with your dominant hand and rub the incense powder into both hands. Then sit cross-legged on a zafu (a cushion used for Zen meditation), form a lotus bud shape with both hands, and bow. First-timers need not fret as a monk will be there to carefully guide you through the motions. With both eyes half-closed, look at the "阿" (read as "a") Sanskrit character on the hanging scroll as you join your hands together in front of your belly button and take steady breaths. Picture the fresh air entering your body with every breath in through your nose and out through your mouth. After that, repeat The "阿" character represents the Buddha, Dainichi Nyorai, who is said to be the origin of all teachings in Shingon Buddhism. The character on the scroll appears to be positioned on top of a flower and is said to be symbolic of "oneself " sitting on a lotus flower. There is a notion in Shingon Buddhism that says that the Buddha and oneself are one in the same. I felt purified as the fragrance of the sacred incense wafting around the hall entered my body through my deep long breaths. Experiences such as this meditative one and others, including sutra copying, can be found in many different temples in the Koyasan area. It is the perfect place to spend invaluable time enriching your five senses.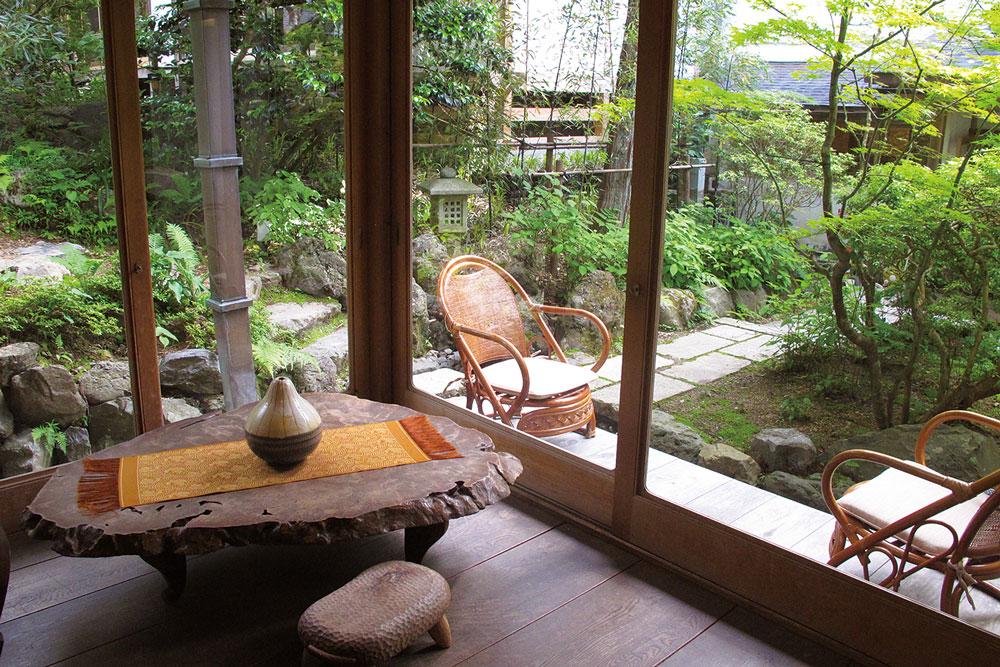 Exploring the Life of a Pilgrim
An experience that absolutely cannot be missed during a trip to Koyasan is a stay at a temple or "shukubo". Shukubo refers to lodging for pilgrims or visitors to a temple. These guesthouses were originally only open to monks, or pilgrims looking to cleanse their minds and bodies. In more recent days, the number of temples welcoming tourist stays is increasing along with the improvement of their facilities, services, and access to numerous temple culture experiences. In the past, there were 2000 temples in Koyasan. Now, there are 117 temples and half of them offer temple lodging. My place of choice was Kofuku-in, which offers everything you would expect from a typical Japanese inn, from the antique furnishings to the Buddhist cuisine and the tatami mat rooms. My Buddhist cuisine dinner was particularly lavish despite only using vegetarian ingredients such as grains, beans, and vegetables. Whilst learning about the history of Koyasan and Japanese culture first-hand, visitors also get to take a glimpse of the lives of monks as they are given the opportunity to participate in exclusive experiences including morning prayers performed by the chief priest. Once you step foot into the sacred atmosphere of the temple, you will undoubtedly understand why it attracts a constant stream of domestic and international tourists.
A Night Tour of Okuno-in
After having dinner at the shukubo I joined a guided tour which took us to the Okunoin mausoleum. On the 2 kilometre one-way journey to the mausoleum, the trainee monks share insights about topics including, legendary Koyasan Kobo-Daishi Kūkai tales; moral Buddhist teachings; and their experiences training as monks. These tours, which are offered in English as well as Japanese, are run during the day and at night. The night-time tour exposes you to a mysterious and solemn atmosphere not quite as prominent during the day-time tour. The most memorable part of the tour was the explanation about the "gorinto", the memorial towers that can be spotted all around Okuno-in. The teachings of Shingon Buddhism say that the universe is made of 5 elements. The 5 rings of the gorinto are said to be modelled on the 5 elements – earth, water, fire, wind and void. Along with this fascinating tidbit, the trainee monk guide also elaborated on stories about the garden lamps with their moon phase motifs; Sugatami-no-ido (Well of Reflections), as well as the resting places of various historical figures. If any of this happens to pique your interest, I highly recommend this tour which allows you to further understand the enticing wonders of Koyasan (Awesome Tours: https://awesome-tours.jp/en )
Must-See Spots in Daimon, Danjo Garan and Kongobu-ji
On the following day, I explored Dai-mon, Danjo Garan and Kongobu-ji. I began my day by visiting Dai-mon, the main gate of Koyasan, which stands 25.8m tall and has kongo warrior statues standing guard on either side. From Dai-mon, I walked towards Danjo Garan, the fundamental centre of Shingon Buddhism and heart of Koyasan. Together with Okunoin, Danjo Garan is known as Koyasan's area of immense purification. Standing tall in the centre of this area is the 48.5 metre tall, eyecatching, bright vermillion Konpon Daito Pagoda. The pagoda is surrounded by 4 Buddha statues and houses the "Dainichi Nyorai Mandala". Depicted on the 16 pillars of the pagoda are the "16 Bodhisattvas" and the "8 Patriarchs" on the 4 corners, while the pagoda itself is a threedimensional mandala. The intricate details of this beautiful pagoda leaves many visitors speechless. There is a plethora of sights to see including the Kon-do (Hall), once known as the "lecture hall" and used as the main hall during the mid-Heian period; the Mie-do (Hall), which is a unique pyramid-shaped building representative of Danjo Garan, standing at 15m in height and width; and Sanko Matsu that is positioned between the two hot spots. The beautifully constructed Rokkaku Kyozo (hexagonal depository of the scriptures) is another aesthetically pleasing structure that has a unique hexagonal shape. The building, used as a storehouse for sutras, can be rotated by the handles fitted near the base. One rotation of the building is said to provide you with the same virtue as if you had read all the sutras. The opportunity to rotate a historic building with your own hands is a unique experience that should not be passed up. Another place to visit is Kongobuji Temple, the main temple of Shingon Buddhism located near the centre of the mountain sanctuary. When Kobo-Daishi Kūkai founded Koyasan, the entire area was called Kongobu-ji Temple, however, from the Meiji period onwards the name only refers to the one temple. Visitors can enjoy Japanesearchitecture, beautiful fusuma paintings and sculptures filled with history.
Kudoyama and Jison-in
After leaving Kongobu-ji, I headed to Jisonin Temple in Kudoyama. Kobo-Daishi Kūkai established the konpon dojo of Shingon Buddhism approximately 1,200 years ago when he was bestowed the land of Koyasan by Emperor Saga. To many people's surprise, it wasn't until the 5th year of the Meiji period (1872) that the strict restrictions against women visiting the area were finally lifted. Although Koyasan is now a popular tourist destination and World Heritage Site that is open to anyone and everyone, remnants of the restrictive era can still be found. The Nyonin-do halls (hall for women) built at the entrances to Koyasan are distinctive examples as female worshippers who were denied entry into Koyasan could only visit and pray in these halls. Jison- in Temple, located about 30 minutes by train from Koyasan, was established by Kobo-Daishi Kūkai as a "nyoninkoya" or a place where women can freely gather to pray. During the period when females were forbidden, it is said that Kobo-Daishi Kūkai's own mother could not even catch a glimpse of her child due to strict restrictions. Kūkai's routine of walking down "Choishi-michi" (mile stone route) 9 times a month to visit his mother is said to be the root of the name "Kudoyama" or literally, "9-time mountain". Choishi-michi (mile stone route) owes its name to the guide stones placed at every cho (approximately 109m) to lead the way towards Koyasan. While Jison-in was the last place I decided to drop by on my trip, many travellers start their trip at Jison-in and make their way to Dai-mon in Koyasan on foot by following the Choishi-michi.
Due to its designation as a nyonin-koya (Temple for women), Jison-in sees many female visitors offering breast-shaped ema (votive tablet) at the temple for spiritual sustenance in areas of women's needs such as fertility, safe birth, child-rearing, breastfeeding and good marriage. Prayers made for the recovery from breast cancer have particularly increased in recent years. This has led to high demand for pink charms from women all over the country, since pink is a colour synonymous with breast cancer eradication. The many "breast ema" offered to the shrines are handmade. The dearest prayers of women are written on these breast ema including prayers for the good health of their family, and hopes for their children to grow up healthy.
If you happen to find yourself in Koyasan, make sure to drop by these historically-rich locations. Approximately 1,200 years have passed since Kobo-Daishi Kūkai opened up the Shingon Buddhist dojo, yet it still retains its beautiful nature and traditional culture. Get away from the hustle and bustle of the big cities and hone your 5 senses in the solemn atmosphere for an unforgettable experience.
Web: https://en.visitwakayama.jp