With the recent sharp rise in rent and real estate prices, many people may be considering a move. Our Nichigo Press July magazine features 'Ask a Specialist! The Latest Real Estate Situation in Australia 2023.'
 In this special feature on real estate, we bring you a "real-life moving experience" that was experienced by a member of our Nichigo Press team.
Overview
Family Composition: Family of 4 (2 children in primary school)
Former Residence: A single-family home in Sydney (Lower North Shore) 
New Residence: A single-family home approximately 1 km away from the old house 
Plan: A pack entrusted with everything from packing to unpacking  
Moving Staff:6 people total 
Duration: Total of 13 hours and 30 minutes, consisting of day 1 (8 AM. to 3:30 PM) and day 2 (8 AM. to 2 PM)
Quotes
 Roughly 6 weeks prior to the planned move, I requested quotes from four companies, 3 Japanese and 1 local, through their websites.
 First, I received a response from Japanese Company A, which politely informed me by phone that they were currently suspending their domestic moving services due to the effects of Covid-19. I was disappointed because I had heard good things about Japanese Company A's moving service, but because of the labour shortage, especially among working holiday makers and international students caused by Covid-19, and because of their polite immediate response to my inquiry, I agreed that it was inevitable. However, since I had to make a decision to move in any case, I called Japanese Company B, feeling a little impatient since Company A, which I had high hopes for, was no longer an option.
 When I called to inform them of my scheduled moving date, I was told that "domestic moving service is still available, so please fill out the web form and enter the amount of furniture and belongings". However, later that day, I was shocked to receive an email from Japanese Company B, informing me that they were not accepting domestic moving reservations due to the busy season for overseas moving services during this time of year.
 The answer was different from what I had carefully confirmed on the first phone call, so I was feeling a little frustrated. But I came to my senses and felt that it's best to inquire with a trustworthy company, so I decided to wait for the remaining two companies to respond.
 Under such circumstances, I was contacted by Japanese Company C at just the right time that they were willing to come to our house to give us a quote. After informing them of our desired schedule, the president of the company himself came to our house to inspect the premises and give us a quote. 2-3 days later, I received a clear quote by email. Even after confirming the contents and amount several times, the communication was always clear and sincere, so in my heart, I decided to go with Company C.
 I also received an email of a rough quote from the local company we contacted about a week later, which said "$XXX per hour, for the time taken by 3 people". It was a very rough quote with no upper limit, saying that the time required for the work itself would be whatever it cost. The quote was so rough that I simply gave up, saying "This isn't it, as expected of Australia (laughs)". The website was very well presented, but it was a typical example of how Australia tends to make itself look good on the outside.
 In the end, I decided to go with Company C, River Express Pty Ltd. When selecting a moving company, the most important thing is to determine how they respond when requesting an estimate. The attitude, impression, and trust that can be felt from the response at that time, in short, determines whether you can work together with a reliable team to tackle the big task of moving. And I realised once again that the most budget-friendly amount will ultimately determine which company to choose.
Moving operation
 We decided to go with the "all inclusive" plan, where we leave everything to River Express, from packing to unpacking, and there is no preparation we need to do ourselves. The only thing we had to do was mentally prepare ourselves for the big move with our family.
 The move was expected to take 2 days. Day 1 will be spent packing, moving, and unpacking the 2 children's rooms, living room, master bedroom, and two bathrooms. Day 2 will be spent packing, moving, and unpacking the kitchen, storage, outdoor items, and all remaining belongings.
[Day 1]
 The work started at 8 AM As expected of a Japanese company, they were on time. They were on standby to enter the moving site at exactly 8 AM. Even if they arrived a little early, I saw them waiting outside in their vehicles until 8 AM, as if they were concerned about our situation while we struggled to get our children ready for school in the morning. I am used to the loose schedule in Australia, especially among tradies, so I was impressed by the punctuality of this Japanese company.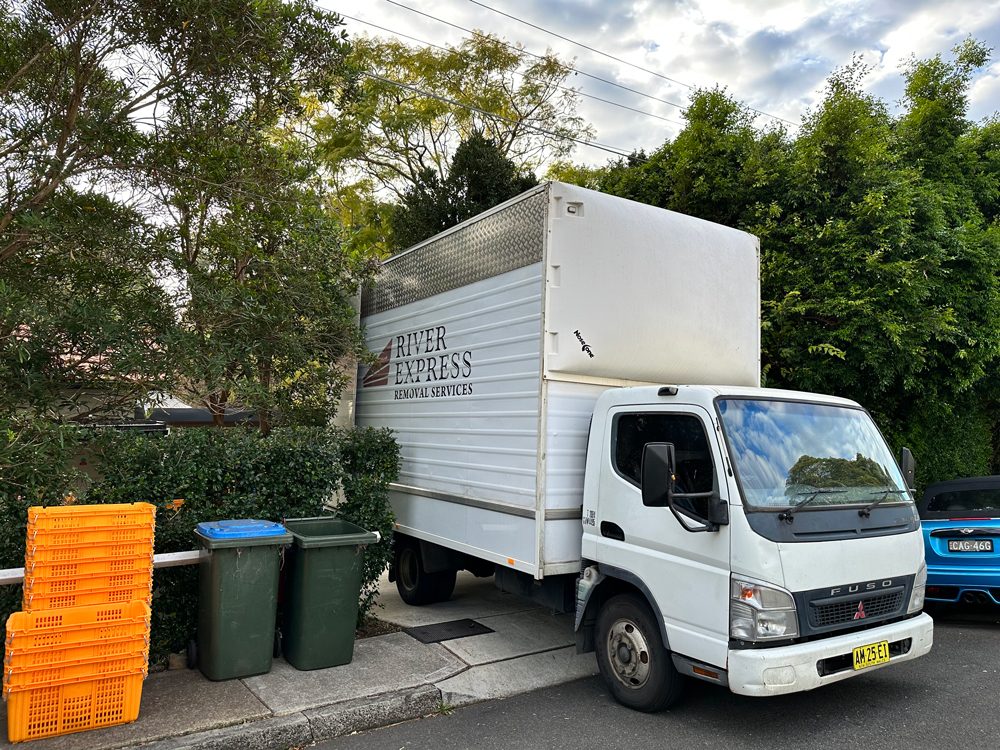 There was a total of 6 staff members, including the president, all of whom were Japanese. Everyone looked young, fresh, and athletic. The manager was very sincere and solid, and the chain of command within the team was clear. I have almost no trouble with English in my daily life, but I appreciate being able to convey detailed nuances in Japanese. They also readily agreed to take their shoes off in the house, which is a characteristic of Japanese culture. I always had to negotiate with the local people on this matter. They insist on wearing shoes while working to ensure the safety of their feet, which is perfectly understandable, but Japanese people still feel reluctance to allow people entering their homes with their shoes on.
 As if making a dash for the start at 8 AM., they began to attack their work in the children's rooms at a very fast pace. An hour into work, they were almost completely done with packing and moving furniture in the two rooms. We were amazed at the speed at which the work was done, so fast that we couldn't keep up. This was a good team.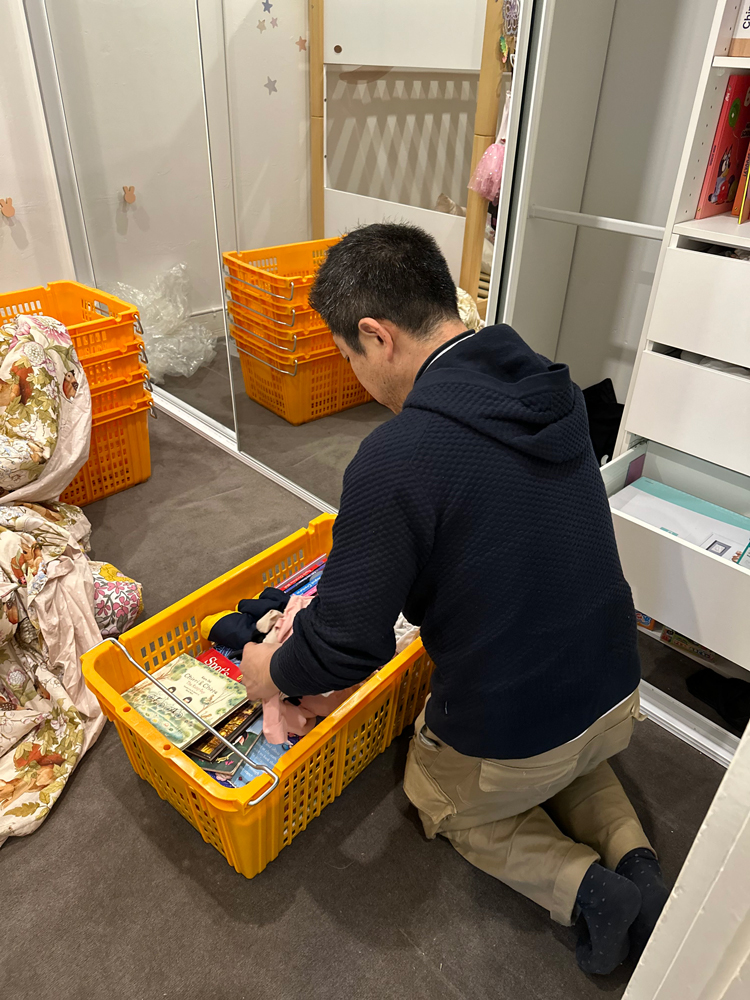 The packing and moving of our belongings on the first day consisted of two medium-sized trucks and a van; large plastic baskets and boxes for clothing were used for packing, and cardboard boxes were almost never used except for small items. Well, this was good. No unnecessary waste and almost no stress of unpacking and handling cardboard later. In fact, I realised that packing in cardboard boxes would add extra work steps and stress.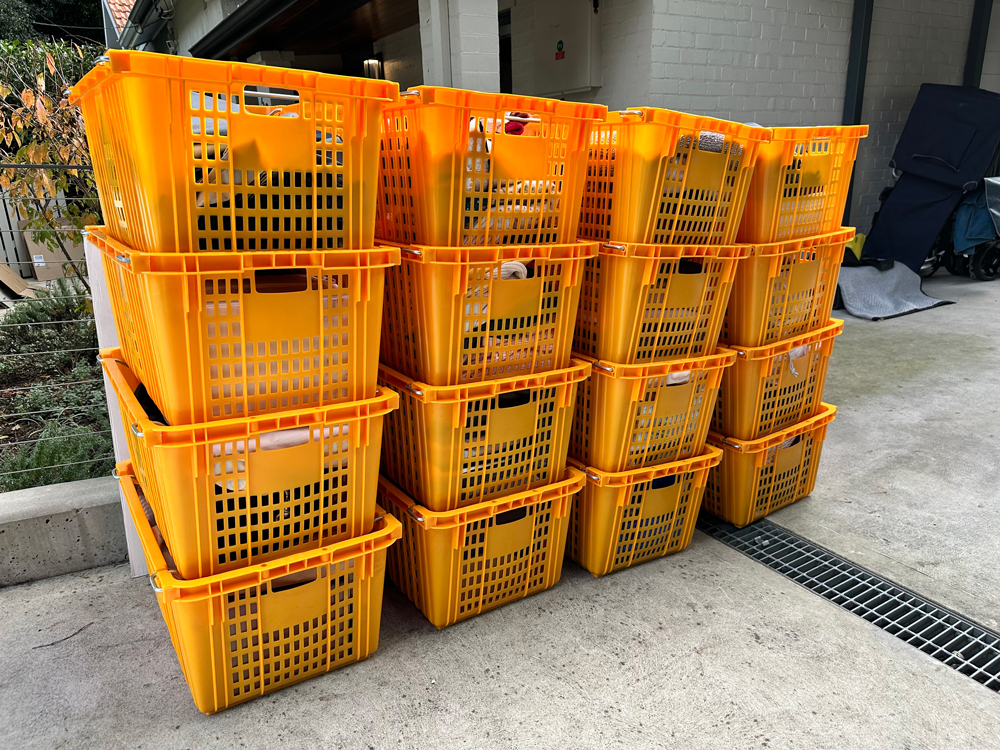 As I watched with mixed feelings of loneliness and happiness as my home quickly became empty, I was convinced that it is better to leave the moving process to someone else, if possible. If you do the moving work yourself, you are leaving a home that holds memories and feelings for you, so the work slows down as you become immersed in sentimentality, and you become tired both mentally and physically. But if you leave the work to a third party, the emotional part will not affect the work, and the work will be done more smoothly. I feel this is well worth it.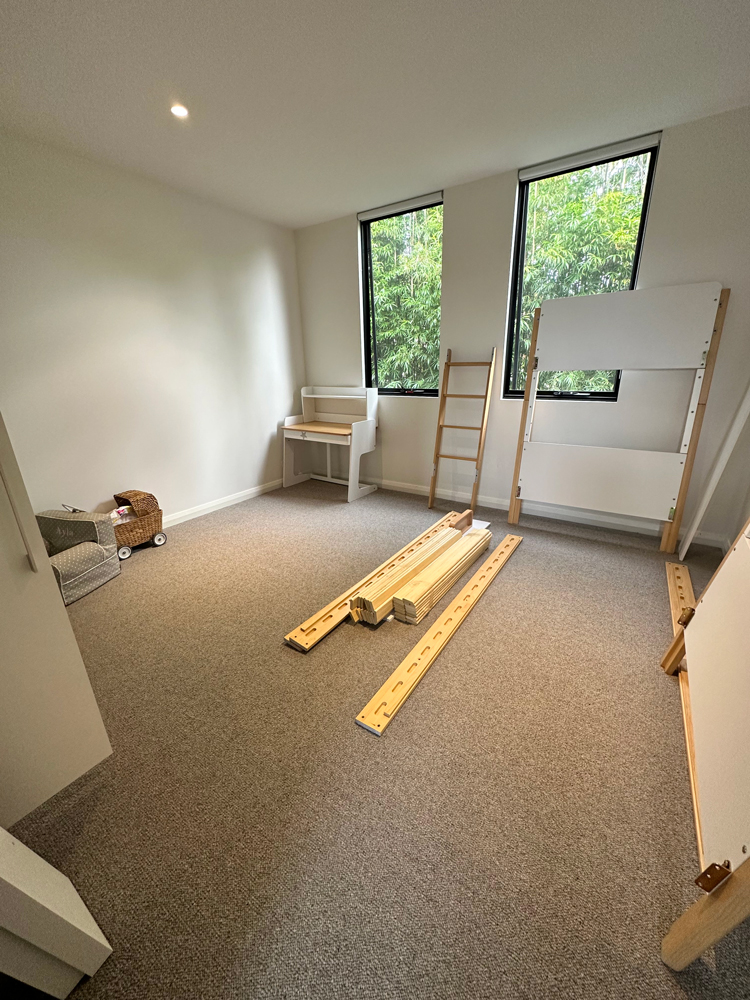 The original plan was to spend the last night in the old house, but the work went so well that the new house become more like home, so we changed our plans to spend the night in the new house. We had to make some minor adjustments, such as which house to put the bed mattresses in, but River Express was more than willing to accommodate the change.
 The first day's work was completed at 3 PM. After checking in on the work progress with the staff, they left the site without leaving a single piece of trash.
[Day 2]
 The second day's packing and moving of our belongings consisted of one medium-sized truck and one van, with the same six members as on the first day. It started at exactly 8 AM. like the day before. At this point, we had already established some trust as a team, so after a short briefing on the second day's work, we were able to leave most of the work to them. Thanks to this, I was able to concentrate on my own work that had been piling up.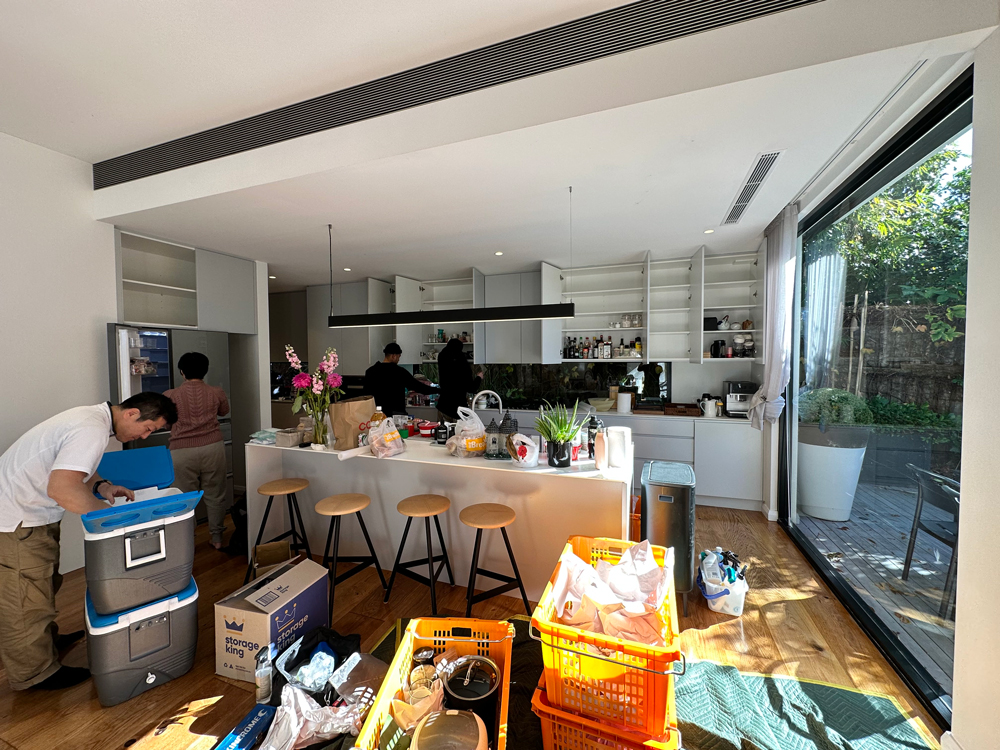 I realised once again that moving is also a project, and trust among the team is important. Rather than micromanaging, we clearly communicate what parts of the project we are entrusting, and at the same time, clearly communicate what we insist on and absolutely want to ask for. Clear communication and trust from both sides are undeniably important. By being able to do so, both the client and the moving company can focus on the work with a sense of mutual comfort.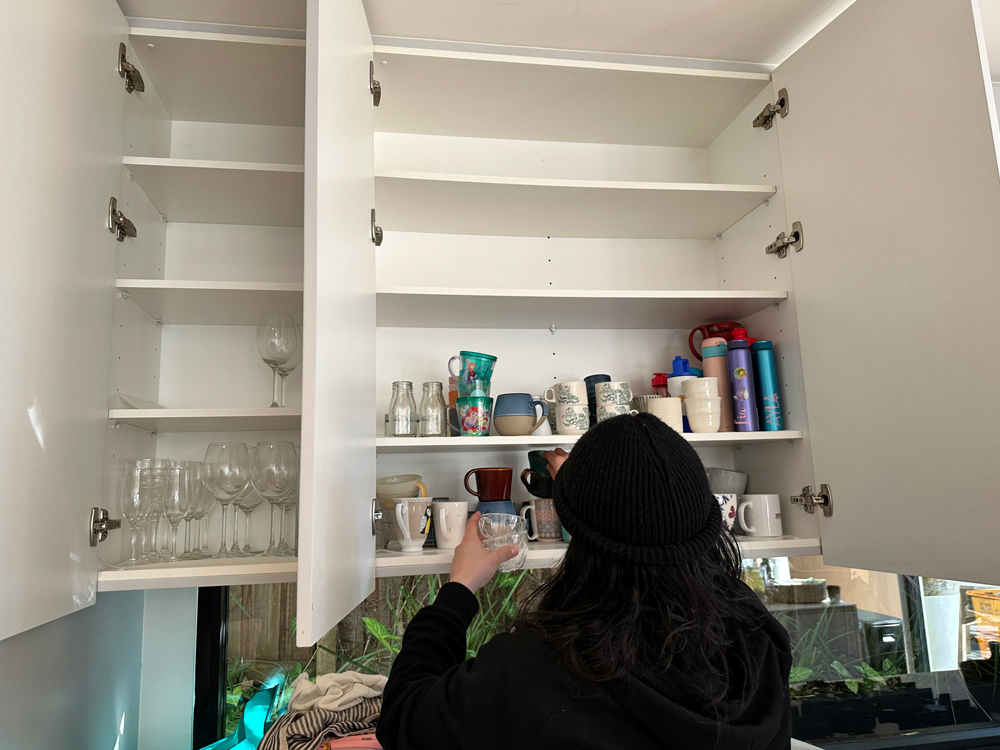 While basically leaving the work to the staff, I appreciated the fact that they would check with me every step of the way during the work when they didn't know what items to take to the new house and what items not to take. I got the impression that the staff was able to make good judgements based on their work experience about what was left to them and what needed to be checked. The work proceeded in the blink of an eye, and within about 3 hours since the start, all of our belongings from the old house were loaded onto the trunk.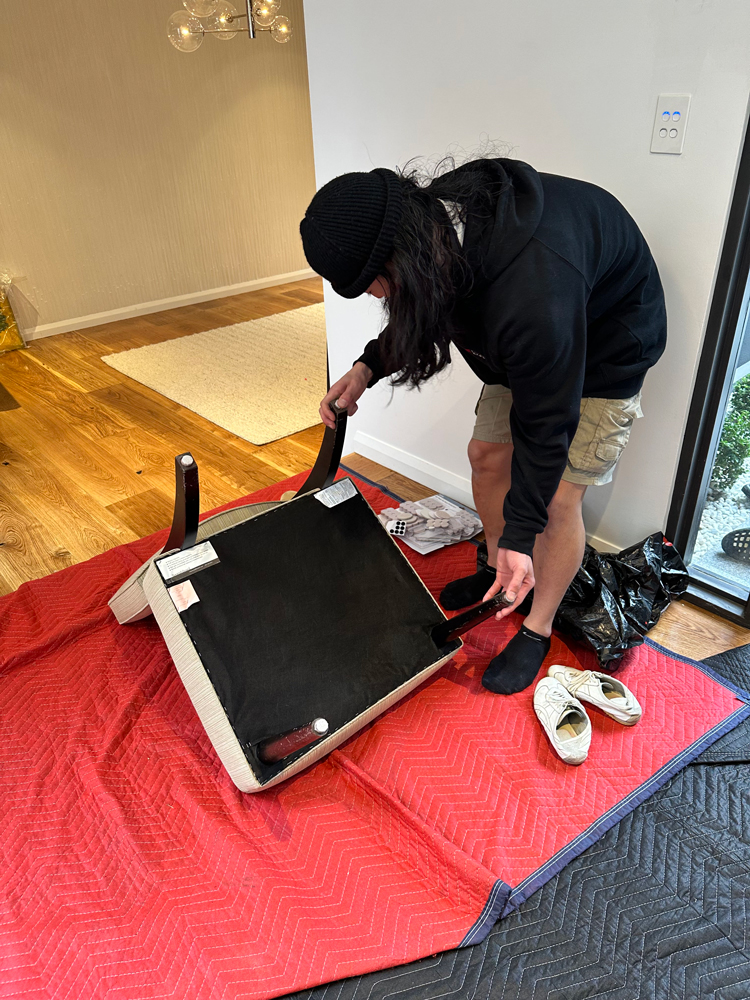 When putting our furniture into the new house, they carefully put pads on the back of each furniture leg to prevent scratches on the floor, and they also put medicine on the back of wooden furniture legs where black mold was growing and carefully wiped it off. I greatly appreciated the fact that they did not just move our furniture and belongings, but also thought about how we could live in a clean and comfortable new home.
 Since we had to work over lunchtime on both days, we prepared some cutlet bread and tea for the workers so they wouldn't get too hungry and can concentrate on their work. In Japan, it is customary in some areas to offer a gift or sushi to the workers. But in Australia, those kinds of tipping services are included in the quoted price. However, the people who are working for you will be hungry and thirsty by lunch time, so I thought it would be better to prepare something for them so they could feel comfortable and proceed with the work.
 The second day's work ended at 2PM, even earlier than the first day. We received solid support from the team until the final work stage, where all that remained was to organise the items that had been brought into our new home.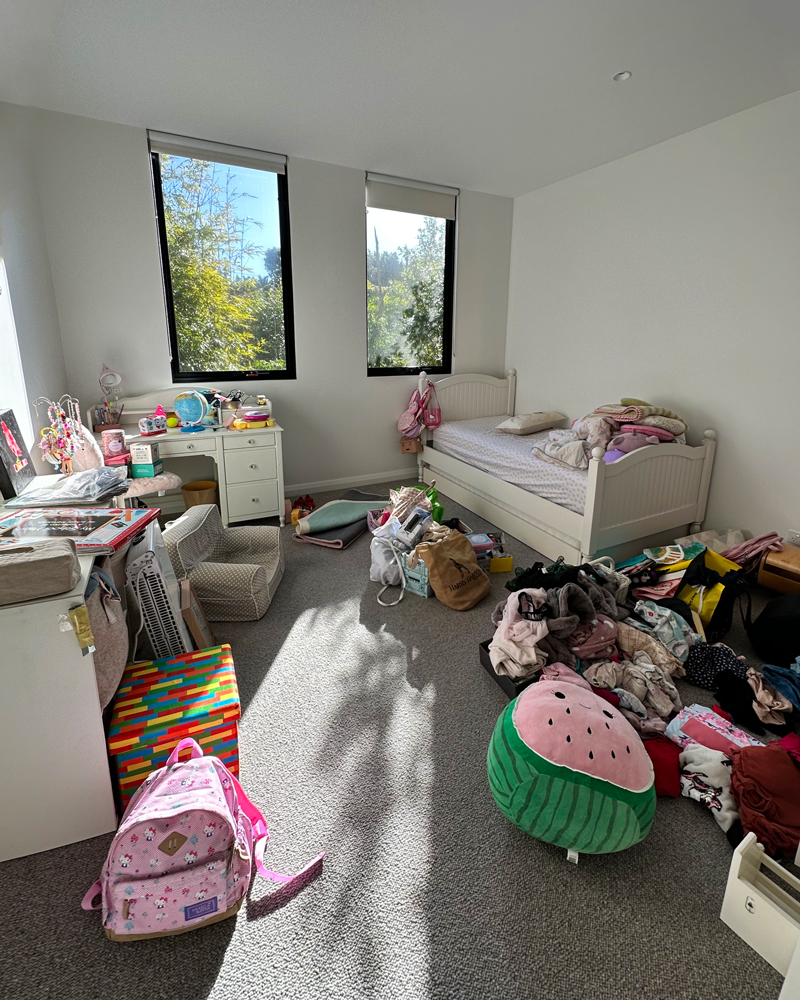 I had neither requested nor expected the kind of service we had heard so much about in Japan, where the shelves and the way things are placed are photographed before packing and then displayed on the shelves of the new house exactly as they were. However, the politeness, attention to detail, and cleanliness that only a Japanese team could provide can certainly be felt as an added value. Returning to the title of this article, 'Japanese moving services exist in Sydney!?', I can now speak from my own experience that 'Japanese moving services do exist in Sydney.'