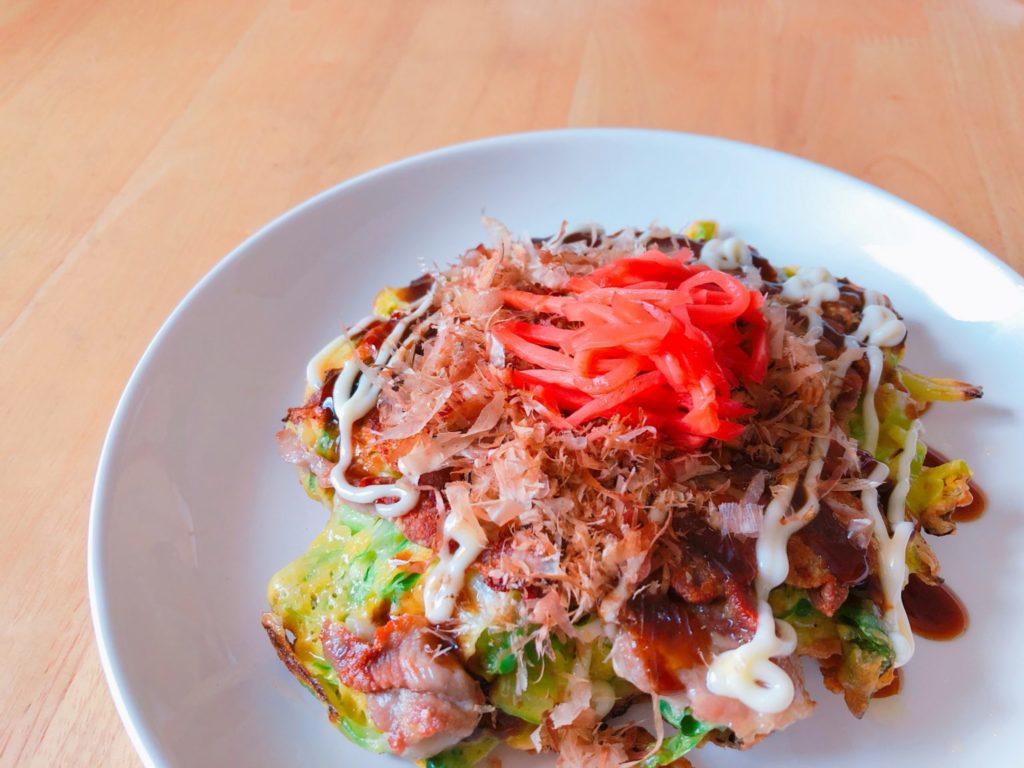 If you're a fan of Japanese street food, I'm sure you've heard of okonomiyaki. If you're new to the scene, you're in for a treat!
Literally translated, okonomiyaki means "whatever you like, fried". And that's exactly what it is! Chef Ivan Orkin calls it "a clean-out-the-fridge-franken-pancake". You take a basic pancake batter and shredded cabbage and add whatever you like.
This simple, tasty dish is available all over Japan. It's particularly popular in Osaka and Hiroshima, which have each developed their own unique styles.
This recipe will show you how to make Kansai- or Osaka-style okonomiyaki. This is the most common style in Japan and it's a lot like a savoury pancake or frittata. All the ingredients get mixed together and fried at the same time.
A few tips before we start…
Shredded cabbage
Because you'll be mixing the cabbage into the batter, the way you shred it matters. If you don't do it properly, the cabbage will get soggy while you're cooking. Make sure you shred the cabbage into pieces about 3cm long.
Okonomiyaki batter
In this recipe, we'll be making the okonomiyaki batter from scratch. However, if you're feeling lazy, you can buy the batter premixed from your local Asian grocery store. Then, all you have to do is add eggs and water. If you don't want to make the sauce yourself, Bull Dog tonkatsu sauce will work just as well.
Cooking the pancake
The best way to cook okonomiyaki is on a teppan: the kind of large steel plate you see at street food markets. However, a normal frying pan will be fine. You can even use your barbecue if it has a flat cook surface. I do recommend investing in a couple of wide egg flippers. It will make flipping the pancakes so much easier!
Mayonnaise
Japanese mayonnaise has quite a different taste to Western-style mayonnaise. For this recipe, you really need the Japanese kind. It's called Kewpie mayonnaise, and it's easy to find in most Australian supermarkets.
Pork belly
I think crispy pork belly strips make the best okonomiyaki. However, you can replace the pork with any other protein. Or, if you're a vegetarian, you can leave the meat out altogether.
OKONOMIYAKI RECIPE (Prep & cook: 35-40 mins)
INGREDIENTS 5-6 pancakes:
For the pancake:
1½ cups plain flour
2 eggs
1 cup water
2 Tbsp white miso paste
2 Tbsp mirin (rice wine)
320g green cabbage, finely shredded
250g red cabbage, finely shredded
3 shallots, thinly sliced
1 carrot, grated
1 Tbsp red pickled ginger, roughly chopped
1 Tbsp sesame seeds
200g pork belly, thinly sliced
For the sauce:
2 Tbsp BBQ sauce
1 tsp oyster sauce
1 tsp honey
2 tsp Worcestershire sauce
For the topping:
Red pickled ginger
Sesame seeds
Seaweed flakes (aonori)
Japanese mayonnaise
Shallots, finely sliced
METHOD:
1. Combine the white miso paste, mirin, eggs, and a dash of water in a large mixing bowl. Add the flour and the rest of the water and whisk until smooth.
2. Combine the shredded cabbage, shallots, carrot, pickled ginger, and sesame seeds in a separate bowl. Stir well.
3. Pour the batter over the vegetables and stir to combine.
4. Warm a large frying pan to medium heat. Add a drizzle of vegetable oil and 2 large spoonsful of the mixture.
5. Place 3 pork belly slices on top of the pancake and cook covered for a few minutes.
6. While the pancake is cooking, combine the BBQ sauce, oyster sauce, honey, and Worcestershire sauce in a small jug and stir well.
7. When the underside is nicely browned, flip the pancake. Press down gently with a spatula to fix the shape.
8. Cook covered for a few minutes until the second side is golden and crispy. While the pancake is cooking, drizzle over it with the sauce.
9. Remove from the frying pan and transfer to a plate.
10. Squeeze mayonnaise over the pancake in a crosshatch pattern. Top with a sprinkle of pickled ginger, finely sliced shallots, sesame seeds, and seaweed flakes.
— Article From BACK LANE