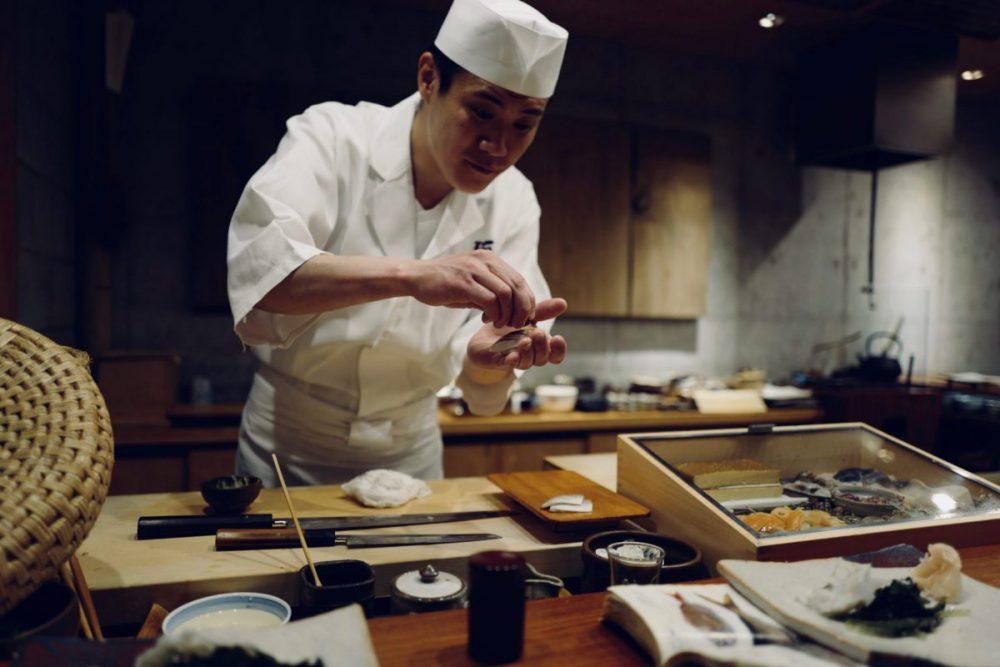 Japan has many restaurants that are technically not open to the public. In Tokyo, these exclusive sushi restaurants, kaiseki (traditional Japanese multi-course dinner) or secret bars. In Kyoto, there are member-only tea houses where Geisha entertain customers. Some places are easier to get an invitation, while some are almost impossible.
Famous Invite-Only Restaurants
Matsukawa
Location: Akasaka, Tokyo
Cuisine: Kaiseki
Cost: ¥50,000 – ¥59,999
Matsukawa is a modern kaiseki restaurant in Akasaka. At the time of writing, Matsukawa takes an impressive 3rd place nationwide behind Nihonbashi-Kakigaracho Sugita (featured later in this article) on a popular restaurant ranking site Tabelog. Matsukawa sticks to Japanese kaiseki traditions by using fresh, seasonal produce to make highly esteemed dishes. Matsukawa only accepts guests on an introduction-only basis and reservations can only be made three months in advance.
Sugalabo
Location: Azabudai, Tokyo
Cuisine: Innovative
Cost: ¥50,000 -¥59,9991
Sugalabo is owned by French-inspired Iron Chef Japan contestant, Yosuke Suga. He believes in the importance of making customers feel comfortable through communication. Suga has created a special service by compiling patron's food restrictions and preferences, hence why new-comers cannot come in without a regular customer. Furthermore, the owners decides to open and close the restaurant on his own accord, which makes it even more difficult to reserve!
Hidden Restaurants
Mibu
Location: Ginza, Tokyo
Cuisine: Kyoto
Cost: ¥30,000 – ¥39,999
Mibu is one of the most famous member-only restaurants, but it is hard to find. There is no menu, no opening times and no website. Members are invited to choose one night each month every year to dine, and they can invite seven guests. It is said that that the head chef Hiroshi Ishida's dishes are so delicious that they bring diners' to tears.
Disneyland's Restaurant Club 33
Location: Tokyo Disneyland, Chiba
Cuisine: Unknown
Cost: ¥20,000 – ¥29,999
There is a secret restaurant in Tokyo Disneyland called Club 33 somewhere in World Bazaar. The exclusive Club 33 began at Disneyland Resort in California, and is now in many Disney resorts throughout the world. It is believed that the US Club 33 has a 14-year waiting list, but Tokyo Disneyland is near impossible because most memberships are corporate accounts.
The club offers special benefits besides food, such as exclusive items that can only be purchased there. For example, a coffee cup can be purchased of around ¥16,000.
Michelin Star Invite-Only Restaurants
Nihonbashi-Kakigaracho Sugita
Location: Nihonbashi Kakigara-Cho, Tokyo
Cuisine: Sushi
Cost: ¥20,000 – ¥29,999
Nishibashi-Kakigaracho is an exclusive Michelin star sushi restaurant, which is not strictly invitation-only. However most seats for the upcoming month are usually booked by regular clients during their visit. It is almost impossible to get a spot unless you are invited by a regular.
Sugita has Edo-style décor in the restaurant. The course available includes five to eight appetizers, followed by eleven to twelve nigiri afterward! The main dish is a seaweed-wrapped sushi roll that has mackerel, pickled ginger, and shiso leaves.
Sukiyabashi Jiro
Location: Ginza
Cuisine: Sushi
Cost: ¥40,000 -¥49,999
Sukiyabashi Jiro, known as the "world's best sushi restaurant," is famous for being the restaurant that Barack Obama dined with Japanese Prime Minister Shinzo Abe in 2014. The documentary "Jiro Dreams of Sushi" is based on this restaurant. Since Michelin began its star system in Tokyo in 2007, it continuously received three Michelin stars until Sukibashi Jiro became invite-only.
The owner, Jiro Ono, is in is 90s but is still serving sushi! Famous stars, such as Hugh Jackman and Katy Perry, have had the opportunity to meet the chef and dine here.
Sushi Saito
Location: Roppongi
Cuisine: Sushi
Cost: ¥10,000 – ¥14,999
Sushi Saito is located in the Ark Hills South Tower, Roppongi. The restaurant has a strict members-only policy, and new members are must dine with a regular customer for a couple months before being able to make a booking themselves. The restaurant had three Michelin star but were also removed in when the restaurant became members-only, similar to Sukibayashi Jiro.
Chef Saito serves seasonal dishes such as monkfish liver (ankimo), nigiri plates, which includes fatty tuna and sea urchin. The chefs special touch is that he adds extra salt to the rice, which is prepared with mild red vinegar.
Ready to Discover Japan's Invitation-Only Restaurants?
If you get lucky enough to get an invite, here are some tips. First of all, you must be punctual because many restaurants will wait to serve the food until all guests arrive, and it would be rude to keep the regulars waiting. Head off early because member-only restaurants are not sign-posted and are hard to find. Ask permission to take photos, ae many don't allow it to keep the mysterious exclusivity. Finally, bring cash just in case they don't accept credit cards.
Which members-only restaurants do you wish to try out? Have you been to an invitation-only restaurant or bar? We would love to hear from you in the comments.
— Article From BACK LANE