Exhibition
September 15, 2023 – January 27, 2024
Ai Sasaki: Wayfinder's Passage is a solo exhibition by Ai Sasaki, a contemporary Japanese artist based in Osaka. Curated by Yu Iseki (Curator of the Contemporary Art Gallery, Art Tower Mito), this exhibition features Sasaki's recent works across mediums including drawings and oil paintings, as well as a new mural to be created using a sugar-based confectionery decorative technique called royal icing.
Through her works, Sasaki depicts scenes in which the worlds recollected from viewers' 'memories' intersect with reality. Drawing from her experiences of living in various countries and regions, Sasaki's art practice takes inspiration from the mythology, legends and stories of the lands she has visited, along with the landscapes, plants and animals she has encountered.
The exhibition's title, Wayfinder's Passage, reflects the theme for this collection of pieces: the Latham's snipe, a migratory bird that travels from the most northern part of Japan, Hokkaido, to the Tasmanian islands. Although Sasaki's mural will be dismantled after the exhibition's conclusion, the artwork will be carved into the memories of visitors, along with Ai Sasaki's story of the journey between Japan and Australia.
Ai Sasaki: Wayfinder's Passage will be held at The Japan Foundation Gallery from September 15, 2023 to January 27, 2024.
An event program accompanying the exhibition will be announced at a later date.
ARTIST'S COMMENTS
Sometimes, the Latham's snipe flies continuously for six days over the equator from Hokkaido to Tasmania. Why do they decide to travel so far, and how do they do it?
We still don't know everything about bird migration. They head towards the sun, are guided by the stars, feel the magnetism of the Earth and travel dynamically with the wind, using guideposts that us humans don't know about. Furthermore, plants spread to distant places when they are carried by these birds. There is definitely a world out there that we, who rely and live on the land, cannot see.
What do the sun and stars mean to us, who live on various lands amidst human migration and historical connections? Perhaps we can find the answers in the trees and flowers, animals and landscapes, or within stories that have been handed down for generations since time immemorial. Using these as 'guideposts', I would like to find out more about the world according to my own scale.
ABOUT THE GLASS SURFACE MURAL
The relief that has been created on the glass surface is actually a sculpture made of sugar. The image of a migratory bird called the Latham's snipe carrying a forest on its journey from Japan to Australia has been preserved here as a single scene, and it will be on display here for a short time. This landscape will one day be erased and will live on as a story in the memories of those who have seen it.
AI SASAKI
Born in 1976, Ai Sasaki is a contemporary artist based in Osaka, Japan. Through her art practice, Sasaki creates paintings and installations using familiar materials, and visualises a world that can be recalled from the fundamental 'memory' deep in our minds, such as myths and stories. In recent years she has been actively creating intricate murals using sugar, inspired by the landscapes of places she has travelled to, along with old patterns and stories. These works are exhibited for a limited period of time before they are taken down, only remaining in the memories of viewers.

Sasaki has completed a number of artist residencies in places such as Aomori Prefecture, South Korea, New Zealand and more. In 2010, she undertook a studio residence at the Victorian College of the Arts in the printmaking and drawing department. In that same year, she also stayed in Australia as an overseas trainee of the Pola Art Foundation.
Photo: Takehiro Goto
Works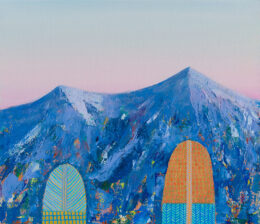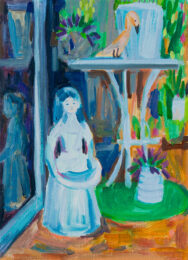 — Article From THE JAPAN FOUNDATION, SYDNEY