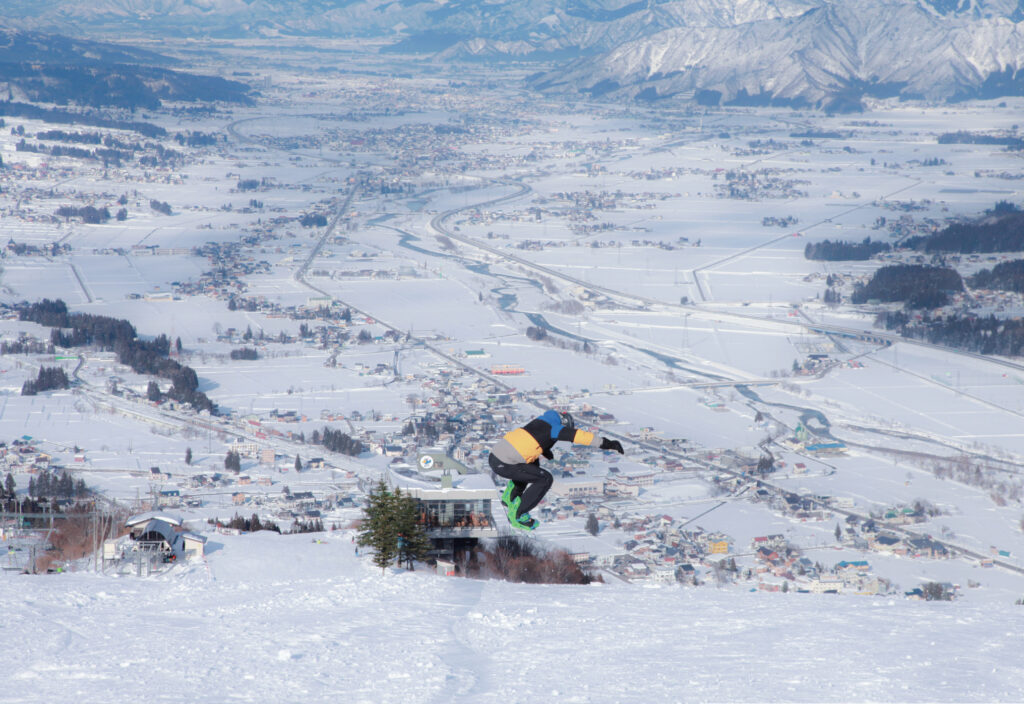 Take a Quick 80-minute trip on the Shinkansen from Tokyo to a Snow Wonderland
A journey to discover new marvels of Echigo Yuzawa
Words and photography: Kazuya Baba
"Upon leaving the long tunnel on the prefectural border there was a country of snow."

Snow Country, by Nobel Prize winning author, Yasunari Kawabata, begins with this famous line. This article will introducem you to the land of snow featured in this very book—Echigo Yuzawa. There is a long tunnel connecting Tokyo to this region and, as described in the above quote, emerging from this tunnel will greet you with an other-worldly view of snow as far as the eye can see.
One of the reasons why the scenery appears to seemingly change in an instant can be put down to the area's closeness to the city. The short distance juxtaposed with the starkly different surrounds leads to this experience. The advance of technology has also possibly helped to aid this sensation. Echigo Yuzawa is one of Japan's most prominent areas of abundant snow, yet it can now be reached in a short 1 hour and 20 minutes via shinkansen (bullet train) from Tokyo, the gateway to Japan. I have visited this location many times to write about it for jSnow, however, this time I will use the slew of information I have gathered to introduce some ski resorts, aspects of culture, and new activities that have not yet been covered to date.
I have been fortunate enough to be offered generous opportunities in order to spread the word about the area's wonders to Australian snow fans across the country. As such, I'd like to preface this article with my intention to include promotional information about the accommodation and other services I have been provided, at no cost, in order to show my gratitude for their kindness.
I highly recommend a stay at Sudo House if you want to experience local life in the area during your stay in Gala Yuzawa.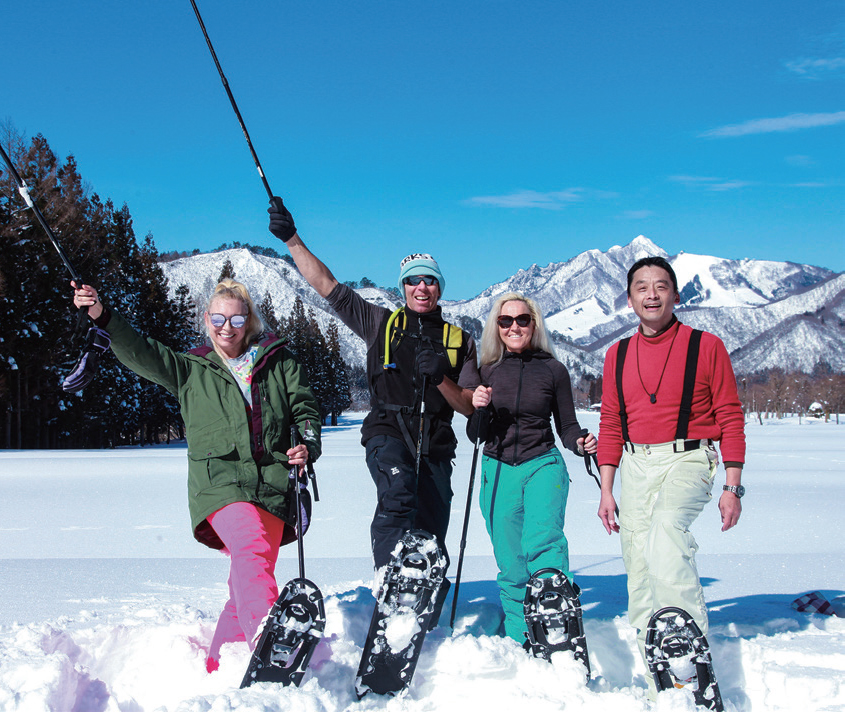 A SKI RESORT CONNECTED DIRECTLYTO A SHINKANSEN STATION
There are many ski resorts in the surrounds of Echigo Yuzawa, however, the most convenient of them all would have to be the only resort in the world that has its own station connected to the shinkansen line—Gala Yuzawa Snow Resort. Articles focusing on Gala often spruik the convenience of being able to take daytrips here without any gear on hand due to the ability to rent everything you'd need right from the facilities connected to the station. As for me, I think it's important to focus on the fact that it has been recently been linked to Yuzawa Kogen Ski Resort and Ishiuchimaruyama Ski Area, and acts as the gateway to this massive interconnected area featuring a total of 48 courses for guests to shred up.
Purchasing a combined lift pass allows you access across the three areas, making for seamless travel back and forth between them, but the sheer size of the areas is almost overwhelming. Many visitors take daytrips directly on the shinkansen to visit Gala on its own, however, attempting to conquer all three mountains in one day is simply impossible. If you have your eye on taking on all the courses on offer, pencil yourself in for an extended trip.
On my trip this time around, I was given the opportunity to set up base at Sudo House (https://www.facebook.com/Sudo-House-Yuzawa-Japan-474419406396406/), an Airbnb located two-minutes away from the base of Gala Yuzawa Snow Resort and owned by an Australian. The owner of Sudo House absolutely loves Yuzawa and she provides traveller accommodation in a typical Japanese home for visitors to experience residential life in a snow region of Japan. I highly recommend a stay at Sudo House if you want to experience local life in the area during your stay in Gala Yuzawa. Nearby is Takahan, which is famous for being the Japanese inn Yasunari Kawabata stayed in as he wrote Snow Country. Following the establishment's upgrade into a hotel, the famous author's room has been preserved separately. The hotel also offers hot springs drawn directly from the source and other onsen baths for guests to drop by on a daytrip, enjoy a relaxing soak in the hot springs and experience the passion that drove Kawabata to write his novel.
A STATE-OF-THE-ART COMBO SKI LIFT
In this issue of jSnow, I'd like to shift my spotlight over to Ishiuchimaruyama Ski Area. This resort, steeped in history, began operations in 1949 and boasts the biggest ski slope in the region. Its long history means it avoids national forest logging restrictions and is absolutely massive. The beautiful, expansive slope can be gazed upon from the mountain's peak, and it has a unique layout to cater to skiers and snowboarders of all levels. Ishiuchimaruyama saw a complete overhaul over the 2019 season. A new base station was set up at the base of the mountain for ticket sales and other services, as well as a stand where you can drop by and taste various different sake (Japanese rice wine).
This overhaul also saw the debut of the Sunrise Express—a state-of-the-art combo ski lift which connects the middle of the course directly to the base. The hybrid ski lift operates ten-person gondola cabins and six-person chair lifts on a single line. The gondolas are fitted with luxurious leather seats and windows all around the entire carriage, and the lifts have seat heaters built into them. These lifts allow even beginners to travel up to the middle of the slope in comfort and with peace of mind.
Ishiuchimaruyama has a history of farmers running restaurants on the slope where they serve meals using home-grown vegetables and rice. This custom has led to a number of privately-run restaurants operating on the slope; all of them providing top-quality food. The vastly improved access to these areas on the slopes is sure to bring a smile to faces of everyone dropping by to visit the restaurants.
CHOOSING TO STAY AT THE BASE OF ISHIUCHIMARUYAMA
The most obvious choice when choosing a place to stay in the Yuzawa area would be to find a spot in the hot-spring town surrounds of Echigo Yuzawa where a variety of accommodation establishments, restaurants, and shops can be found. However, with the recent introduction of night-time operating hours for snow-enthusiasts to shred the courses of Ishiuchimaruyama after dark, the amount of accommodation establishments has increased around the area. There was originally a healthy selection of places to stay in the area, but the number of Airbnb locations and other such facilities has increased substantially to meet the growing demands of skiers and snowboarders from overseas. A particularly popular establishment is Ishimaru House (http://ishimaruhouse.com/), a two-storey, detached house available for rental. This house features four bedrooms allowing up to ten guests to stay, and is a quick three-minute walk from the ski area. It is also conveniently located close to restaurants and a supermarket as well. This very clean and comfortable home is also rather costeffective, especially when staying at capacity, coming in at just over 30,000 yen per night for the entire house.
If you happen to be a fan of Japanese cuisine, you'll be happy to hear that you can also cook and enjoy rice grown by the family of the person who owns the house. This area is known to produce some of the best rice in Japan, and the proof is in the rice itself. The rice is fluffy, chewy, and definitely deserves to be tasted.
I would also recommend a stay at the newly-built Yuki no Shizuku (http://yukinoshizuku.jp/), which can be found at the base of Ishiuchimaruyama Ski Area in the ski-in, ski-out location. The modern-Japanese concept of this hotel perfectly combines the nostalgic air of Japan with a refined, modern atmosphere and places heavy focus on privacy with only ten spacious rooms on the premises. Breakfast andinners here are also a treat to feast on all the local produce lovingly cooked into delicious meals. Head on over to experience it yourself when you're in the area.
ENDLESS FUN TO BE HAD AROUND THE SKI SLOPES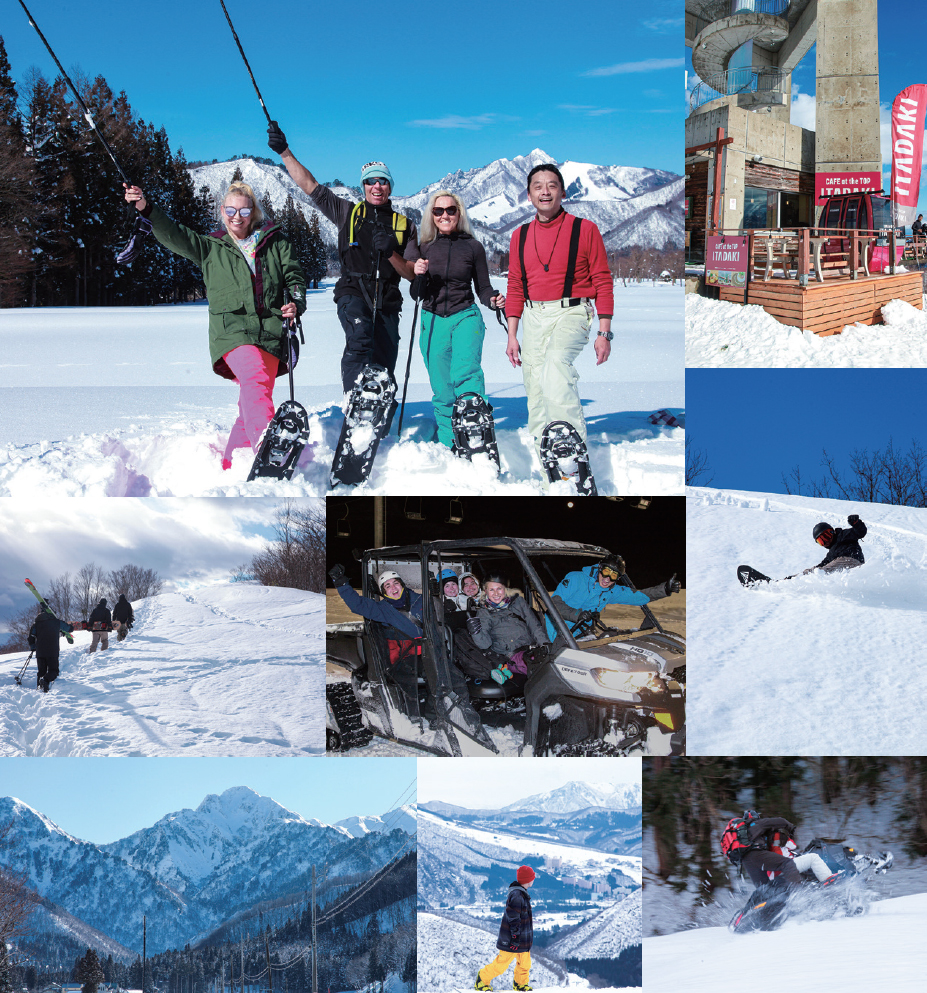 I have covered Naeba Kagura many times in jSnow as a popular area when staying in Yuzawa. It's a popular location to enjoy the vast side country trails, however, it's also fairly well-known amongst many international hardcore skiers and snowboarders. This is why I will be taking this opportunity to focus on independent ski resorts and fun activities in the area that I have not introduced to devout readers of jSnow before.
First up is Maiko Snow Resort. This snow resort can be reached via a free shuttle bus ride from Echigo-Yuzawa station or a one-minute drive from the Shiozawa Ishiuchi IC exit on the motorway. The ease of access makes it a family ski resort that sees many visitors from Tokyo drop by on day trips.
The term "family ski resort" might lead hardcore skiers and snowboarders to believe that it lacks any real challenge, but that's not the case. Non-compacted snow areas and tree-run courses can be accessed from the top of the slope, offering top-class powder snow for those who seek it out. International skiers and snowboarders are yet to discover the soaring potential of this ski resort, making it a hidden gem just waiting to be uncovered.
One of the reasons this ski resort is touted as being "family-friendly" stems from its comprehensive school for children. Programs at this ski school are created for children with the concept of "Snow Education" or playing and learning in the snow, under the supervision of former Japanese ski demonstrator, Miki Nakazawa. There is also a child care centre for parents to hit the slopes with peace of mind knowing that their children are enjoying themselves under the watchful eye of professionals.
A quick three-minute drive from Yuzawa IC, or a seven-minute trip by shuttle bus from Echigo-Yuzawa station is another conveniently located ski area—Kandatsu Snow Resort. The resort underwent a name-change together with a rebranding, and the renovation of the building at the base of the slope over the 2020 season. This change saw the establishment of a café, a state-of-the-art rental shop, and a complete overhaul of its interior to create a more refined, urban atmosphere. A happy attraction at this establishment is its hot spring facilities. There are also newly-created courses and tree-run trails, as well as an expansion to the snow park. Kandatsu Snow Resort is a new area that is sure to garner attention.
A VARIETY OF SNOW ACTIVITIES
Yuzawa is a prominent region in Japan where snow is essentially a way of life. An area full of snow naturally brings with it a range of snow activities outside of skiing and snowboarding. These activities form part of the culture of snowy regions and experiencing them is part of the fun of visiting Yuzawa.
A stay at NASPA Ski Garden (http://naspanewotani.com/), a Western-styled luxury hotel with ski-in, ski-out facilities offering a private ski-slope experience, will give you the opportunity to join in on a night buggy tour. Take a thrilling ride to the top of the mountain with up to four other people on this new-to-Japan snow buggy and see the beautiful nighttime views with this popular activity. Head over to the hotel's official website or contact NASPA New Otani directly for more information.
Snow Country Tourism (http://snowcountry-tourism.jp), a tourism association set up to promote the snow culture in this area, also offers a variety of events and activities. Snowshoe tours in the great outdoors are one of the many fun experiences available.
Thirty-minutes away from Echigo Yuzawa is the nature-rich snowy mountain of the Daigenta area. Enjoy a relaxed snowshoe-walk through the snowfield with an experienced guide leading the way. During the tour, the guide will offer insight on and show you sights only found on snowy mountains of Japan, such as "yukimaroge", which are balls of snow formed by rolling down the mountain, and "kumadana" or "bear shelves" found atop trees. Be sure to check out one of these tours during your downtime on a sunny day.
DEEP THOUGHTS ON SNOW-COUNTRY CULTURE
Approximately ten minutes by car from the Ishiuchi Interchange, or 25 minutes from Echigo-Yuzawa station is Ueda no Sato (http://uedanosato.com/pg428.html), located in the heart of where the best rice in Japan is grown and where Uonuma Koshihikari rice is produced. Ueda no Sato is a facility where you can experience the rural culture to be found in Uonuma.
Drop by the restaurant here to feast on the rural cuisine made using delicious local vegetables and rice, or try your hand at making soba noodles. You can also have a "kamakura" experience where you eat and spend time in a hut built out of snow. Kamakura is an old Japanese New Year's custom in snowy regions where altars are placed inside of huts made of snow. These huts are lit up and are offered to the gods. The term "kamakura" refers to the actual snow structures themselves. If you're after some quintessential experiences found only in snowy regions of Japan, step out of your snow resort and drop by a facility like Ueda no Sato.
Yuzawa has been long-known as a tourist destination filled with visitors enjoying the hot springs.
Sake continues to gain popularity in Australia, and Niigata just happens to be a prominent producer of the alcoholic beverage and is the home of the famous brand— Hakkaisan. The Hakkaisan Brewery not only produces sake, but also runs Uonuma no Sato.
This establishment was created to allow visitors to experience the "warmth and nostalgia of the snow country" through the lifestyle and cultural experiences to be had there. Cafés, restaurants, dessert shops, andmother places to soothe the mind can be found within the grounds of this facility.
You can also have a look at the natural snow refrigeration room. These are commonplace amongst those who live in these snowy areas. Snow rooms are natural refrigerators made of snow and a variety of sake is stored in the one here. Sake is left to age for up to five years in the storehouse made by gathering 1,000 tonnes of snow. This ageing process is said to produce a smoother flavour. On your tour of the snow room, you can also sample and purchase some sake or mirin produced by the brewer. While Uonuma no Sato is located a station beyond Echigo Yuzawa on the shinkansen, the extra trip is well worth it to learn all about the interesting snow country culture here.
Niigata prefecture is well-known as a Japanese wonderland of snow, and Yuzawa has been long-known as a tourist destination filled with visitors enjoying the hot springs. On your next trip here, pack away your skis for a while and turn your attention to the fascinating snow culture fostered here over the centuries to uncover a new side of Japan.