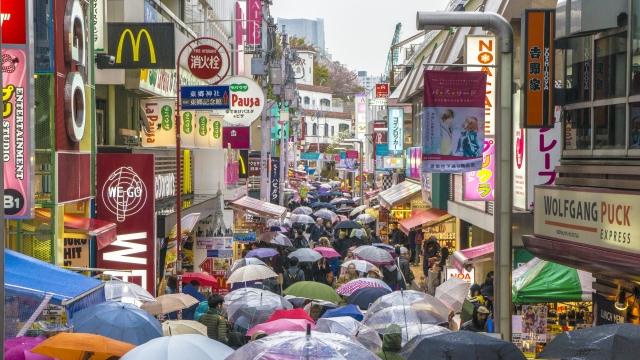 Things to Do in Harajuku
There is no better place in Tokyo to get lost than Harajuku. Much like most of Tokyo, it is simply impossible to cover everything, despite the irresistible urge to explore every nook and cranny. Every street, every shop and every restaurant offers something unique and interesting, making this a highlight for many who visit Japan's capital. Having roamed the streets of Tokyo's hub of youth culture and fashion for the past couple of days, it is plainly clear that this place has everything from out-of-this-world clothing retailers to eclectic and diverse restaurants. It is continuously changing as well with new shops and restaurants popping up on a regular basis.
Harajuku is a district located in the Shibuya area of Tokyo. It is incredibly easy to access from Harajuku Station, which is located on the JR East Yamanote Line and is only a short walk from either Shibuya or Shinjuku Station. Harajuku is one of the most popular areas in Tokyo, not only for locals and Japanese people, but for international tourists as well. It is symbolic as a youth culture and fashion mecca in Japan, boasting many independent boutique shops and vintage stores, as well as many larger chain stores and high-end stores. 
Shop 'Til You Drop in Harajuku
If you have a taste for all things vintage, Harajuku is the place for you with endless streets of vintage and retro stores, offering a range of old school memorabilia and hundreds of racks lined with hip-hop and rock band t-shirts. There are garments in Harajuku that you will simply not find in any other place on earth. Whether breaking the bank or just window shopping, it is worth going to Harajuku. It is important to note, however, that everything does come at a price, and it is not always cheap. Harajuku is home to many cool independent boutique stores such as Strato and Bau, as well as major high-end retailers such as Canada Goose, Paul Smith and Ralph Lauren. The pick of the bunch for the local youth of Harajuku however as shops such as Billionaire Boys Club, Supreme and famous Japanese brand BAPE.
The Best Places to shop:
• Toga XTC – @toga_xtc
6 Chome-31-10 Jingumae, Shibuya City, Tokyo 150-0001, Japan
• VIZ Store Tokyo – @viz_store_tokyo
Tokyo, Shibuya City, Jinnan, 1 Chome−3−1 Barbizon64 1F, 150-0041

• Billionaire Boys Club – @bbcicecream_jp
4 Chome-25-1 Jingumae, Shibuya City, Tokyo 150-0001, Japan
• Supreme
4 Chome-25-1 Jingumae, Shibuya City, Tokyo 150-0001, Japan
• Bape – @bape_japan
4 Chome-21-5 Jingumae, Shibuya City, Tokyo 150-0001, Japan
Where to Grab a Bite in Harajuku?
Harajuku can boast an array of unique and diverse eateries to satisfy any craving or taste bud. No matter what you fancy, you can find it in Harajuku. You simply cannot visit Harajuku without trying one of its famous crepes. One of my favourites is a crepe at La Fee Delice.
The Best Places to Eat:
• La Fee Delice – @ lafeedeliceofficial
5 Chome-11-13 Jingumae, Shibuya City, Tokyo 150-0001, Japan
• Wolfgang Puck Express Harajuku – WOLFGANG PUCK (wp-japan.jp)
The Best Coffee Spots
After pounding the streets of Harajuku, you might be in the need of a quick rest to recharge the batteries or simply a nice Wi-Fi spot to post on social media about all the cool places you have just visited. There is no better place to just relax, chill out and people watch than a coffee shop in Harajuku.
Best Places to grab a coffee:
• Streamer Coffee Company – @streamer_harajuku / @streamercoffeecompany
• The Roastery by Nozy Coffee Café
• Chop Coffee -@chopcoffee_catstreet
Oh, and if you want a truly unique coffee experience, grab a coffee with a hedgehog at the Hedgehog Café – @hedgehogcafe_harujuku, which is only a short 30-second walk from Harajuku Station.
If you ever find yourself in Tokyo wondering what to do, take a trip down to Harajuku, I guarantee that you will not regret it.
— Article From BACK LANE