The 53rd Australian Japanese Language Speech Contest Finals will be held by video entries from the state/territory level contest winners in the following two divisions, and the winners will be announced here in mid-October 2023.
High School Senior Division
Open Division
*Please be kindly informed that 2023 National Speech Content will be the final one in its current format.
The Japan Foundation, Sydney is currently working on launching a new presentation-based contest from 2024, which will be independent of the State/Territory level contests. For information of the State/Territory level Speech Contest from 2024, please contact the respective organiser directly.
This page will be updated with the 2023 information as it becomes available over the next few months.
New!! Japan Trip Report by the 2021 Open Division Winner, Monika Agarwal (VIC)
In March 2023, thanks to the generosity of the sponsors of the Japanese Speech Contest, I finally returned to Japan after almost five years. This time was special because my mum joined me on this trip, and it was her first time in Japan. It was a perfect time to visit because the cherry blossom season just started, and we observed little buds turning into beautiful cherry blossoms throughout our trip.
My flight from Sydney to Tokyo, which was gifted by Japan Airlines, was very comfortable. I enjoyed all the meals, and the staff was extremely kind and helpful. I arrived at the Haneda airport in the late afternoon and made my way to the accommodation. I love Tokyo with all its neon lights, fancy restaurants, and cute cafes. There's something in this city's atmosphere that I want to keep coming back here, and I don't even mind the crowds so much. I was really looking forward to returning after many years, seeing all my favourite places, and how the city has changed. However, the best part of coming back was visiting my friends whom I haven't seen all these years. We spent hours talking, enjoying warm ramen, tempura, and sushi, and strolling around the streets of Tokyo with cherry blossoms starting to bloom. My mum joined me after a few days, and we visited Asakusa Shrine, Ueno Park, Shibuya Crossing, and also less popular places such as the Fabric Town in Nippori because we're both into sewing. After a few days in Tokyo, we booked our tickets for Shinkansen using the JR Pass gifted by Central Japan Railway Co.. Our next stop was a place I always wanted to visit – Kyoto.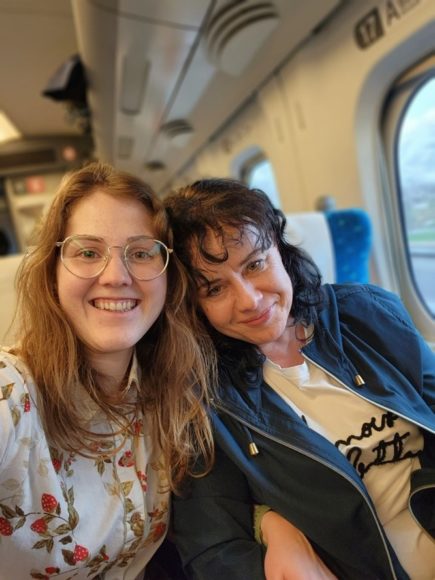 Kyoto is now officially my favourite place in Japan! We spent there a week and saw most of the popular touristic places. The highlight of this trip was definitely the visit to the Fushimi Inari Taisha, where we climbed to the top through thousands of torii gates. Afterwards, we joined the wagashi sweets-making class followed by a tea ceremony, all while dressed in beautiful kimonos. I booked this experience through JTB Australia using the voucher that I received from JTB. I also used that voucher for a private walking tour from Kenninji Temple to the Nishiki Market. It was really nice to be guided by a local, especially, since my mom loves asking questions about every single building she sees. Eventually, after realising our guide is not in her 20s anymore, she started asking her about the Japanese secret of eternal youth, and how to stay slim ☺️
During our stay in Kyoto, we also did some day trips outside the city to fully use our JR Passes. One day we left early in the morning for Hiroshima. On our way, we visited the Himeji Castle and enjoyed a little stroll around the city. After arriving in Hiroshima, we saw the Hiroshima Castle, and then the Peace Memorial Park and the museum. It was one of these unforgettable experiences that give you a lot to think about. Also, a trip to Hiroshima wouldn't be complete without Hiroshima-style okonomiyaki, which we enjoyed for dinner!
On another day, we visited Nara and made some new friends with the locals (see picture above). Nara was just as I remember it, peaceful and full of nature. We walked around the park, visited Todaiji and watched the deer relax in the sun.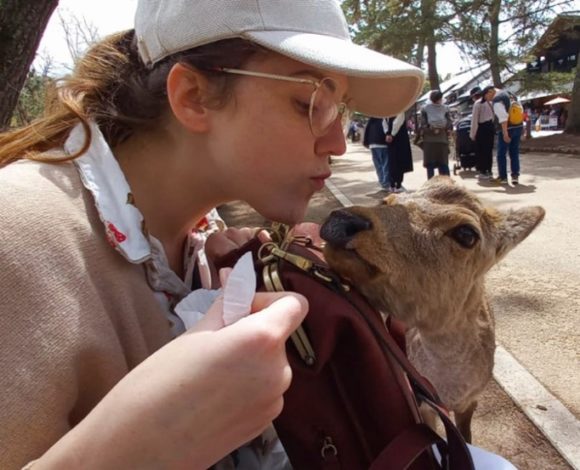 It was so nice to be back in Japan and show my mum around the country I adore so much. She also fell in love with Japan, and we decided that we need to come back together as soon as possible. I would really like to thank Japan Airlines, Central Japan Railway and JTB Australia for making this trip come true.
Monika Agarwal
---
2023 Judges
| | |
| --- | --- |
| Xiangdong Liu | Western Sydney University |
| Yumiko Shaw | Finigan School of Distance Education |
| Hitoshi Hanasaki | Japan Airlines Co. Ltd. |
| Yasuhito Sakurai | Embassy of Japan in Australia |
| Yukihiro Ohira | The Japan Foundation, Sydney |
2023 Prizes
| | |
| --- | --- |
| 1st Prize | Middle and right images: © Kyoto Tourism CouncilReturn air ticket to Japan (Sydney/Melbourne to Tokyo) courtesy of Japan Airlines7-day Japan Rail Pass courtesy of Central Japan Railway Company |
| 2nd Prize | $200 prepaid Gift Card courtesy of Temple University Japan Campus$200 prepaid Gift Card courtesy of Ritsumeikan Asia Pacific University |
| 3rd Prize | $200 voucher courtesy of Kinokuniya Bookstore of AustraliaSpecial leather compendium and stationery set courtesy of JTB Australia |
| Special Prize | Overnight accommodation for two in Australia courtesy of TFE Hotels, valued at $500 |
2023 LIST OF CONTESTANTS
The state/territory level contests were held between July and early September. Below is the list of the contestants in High School Senior Division and Open Division who are representing their state/territory at the Australian Japanese Language Speech Contest this year. (Alphabetical order)
High School Senior Division
| | |
| --- | --- |
| Micah Anden | Casuarina Senior College, NT |
| Jyothika Cheerath | Queensland Academy for Science, Mathematics and Technology, QLD |
| Sidney Eric | Perth Modern School, WA |
| Jasper Hui | Xavier College, VIC |
| Eunbi (Christine) Kang | Cumberland High School, NSW |
| Maryam Khan | Narrabundah College, ACT |
| Akira Yianni | The Friends School, TAS |
| | |
Open Division
| | |
| --- | --- |
| Kaustav Bhowmick | Curtin University, WA |
| Olivia Chubb | University of New South Wales, NSW |
| Hakeem Dimozantos | Monash University, VIC |
| Sanle Yan | Australian National University, ACT |
2023 NATIONAL WINNERS WILL BE ANNOUNCED HERE ON OCTOBER 13, 2023
Below are the winners from the 2022 nationals.
2022 High School Senior Division
The 1st Prize Winner's Speech
The 2nd Prize Winner's Speech
The 3rd Prize Winner's Speech
Sponsors:
Prize
Name
Speech Title
1st
Dipika Choudhury
(Perth Modern School, WA)
STEMと女子の将来
STEM and Girls' Future
2nd
Jazmine Lee
(Narrabundah College, ACT)
ピーナッツアレルギーと共に生きる
Living with a Peanut Allergy
3rd
Sophia Chu
(Mount Waverley Secondary College, VIC)
入れ墨の偏見
Tattoo Prejudice
SPEECH SUMMARIES
STEMと女子の将来/STEM and Girls' Future
In our world today, many say that technology is the future- but whether it be Australia or Japan, women are barely present in STEM fields. Particularly in Japan, even favourable discrimination such as the term "Rikejo" perpetuates the gender divide in STEM subjects during high school. At first. I myself was apprehensive to studying computer science at school. My mum persuaded me to study the subject, but concerns about not having any friends in my class and being worse than all the boys made me dread going to my first class. However, eventually I realised I did enjoy the subject and became better at it, so I'm grateful someone pushed me to take the opportunity. I hope other girls like me can also have someone in their lives push them to give STEM a chance, so that terms like Rikejo no longer exist.
COMMENT FROM THE JUDGES
On behalf of the judging panel, I'd like to thank all finalists, and indeed all entrants, for participating! We know it takes a lot of time, effort and courage to prepare for a speech contest, and really appreciate your contribution. It was a genuine pleasure to listen to all the finalists' speeches. The content was very varied, but one thing that all speeches had in common was that they had an individual touch, give us insights into the finalists' opinions, interests and passions. I have never met any of the finalists, but I genuinely feel I know a little bit about each of them now. The most successful speeches were those which connected their individual insights with a clear and persuasive message, delivered confidently and in clear, approachable Japanese. I congratulate all finalists and encourage you to continue your journey into the wonderful world of Japanese language and culture. (Jeremy Breaden)
2022 Open Divison
The 1st Prize Winner's Speech
The 2nd Prize Winner's Speech
The 3rd Prize Winner's Speech
Sponsors:
Prize
Name
Speech Title
1st
Yingxi Dai
(Monash University, VIC)
死から生へ:川端康成の死生観と美意識
From Death to Life: The Aesthetics of Kawabata Yasunari
2nd
Erin Garrard
(ACT)
声優の力
The Power of a Seiyuu
3rd
Zhipei Zheng
(WA)
日本の近代文学の魅力
The Beauty of Japanese Modern Literature
SPEECH SUMMARIES
死から生へ:川端康成の死生観と美意識/From Death to Life: The Aesthetics of Kawabata Yasunari
Yasunari Kawabata is an insurmountable monument in the history of Japanese literature, and his literary works show the traditional culture of Japan and the social environment of the time. The idea of mono-no-aware, as an indispensable part of the construction of traditional Japanese culture, became a common medium for Japanese writers to express their feelings in the scenery and to express their sorrow. This pessimistic philosophy can also be felt everywhere in the literary works of Yasunari Kawabata. I will start from the traditional Japanese idea of mono-no-aware, explore the emotions of mono-no-aware that is expressed in Kawabata's works. Then analyse and present Kawabata's unique idea of mono-no-aware, in which tradition and self, reality and confusion are intertwined.
COMMENT FROM THE JUDGES
Japanese literature, voice acting, ageing … the lineup of speeches in the Open Division was highly diverse and brimming with originality. The judges were particularly impressed by each finalist's ability to communicate their ideas in an approachable way despite the complexity of their subject matter. Sophistication of ideas plus simplicity of expression and clarity of delivery equals a great speech. I can assure you that the competition for the top placings in this division was very tight and finalists should be proud of their achievements regardless of where they placed in the end. Well done, everyone! (Jeremy Breaden)
2022 Special Prize
SPONSORED BY TFE HOTELS
Name
Speech Title
Hussain Al-Ibrahim (Darwin High school, NT)
科学的じゃない妖怪
Non-scientific Youkai
SPEECH SUMMARY
科学的じゃない妖怪/Non-scientific Youkai
During my research into Japanese culture, I came across the concept of "Yōkai", which is a term used by Japanese people to describe supernatural entities and spirits. Having a very scientifically oriented outlook on things, I was very skeptical and closed-minded about this idea when first stumbling upon it. However, after researching deeper into the true meaning behind Yōkai, I came to see its significance in Japanese people's lives and culture. In "Non-scientific Yōkai", I hope to share my research experience with everyone, and in doing so, preach the importance of being open to new and unfamiliar concepts. Typically, we are quick to judge cultures and ideas alien to us because they go against our own beliefs and perspectives on things. However, if we dive beneath the surface, we will find that these cultures and concepts play a major role in the lives of others.
COMMENT FROM THE JUDGES
As usual it was very difficult to select a single stand-out speech for the Special Prize, but all judges agreed that this speech had a 'special something'. From its intriguing title right through to the final message about opening your mind to new ways of looking at the world, this speech displayed a great combination of originality and careful planning. Moreover, it was delivered in a distinctively engaging style with clear enunciation and listener-friendly timing. Hussain-san, omedetoo gozaimasu! (Jeremy Breaden)
— Article From THE JAPAN FOUNDATION, SYDNEY