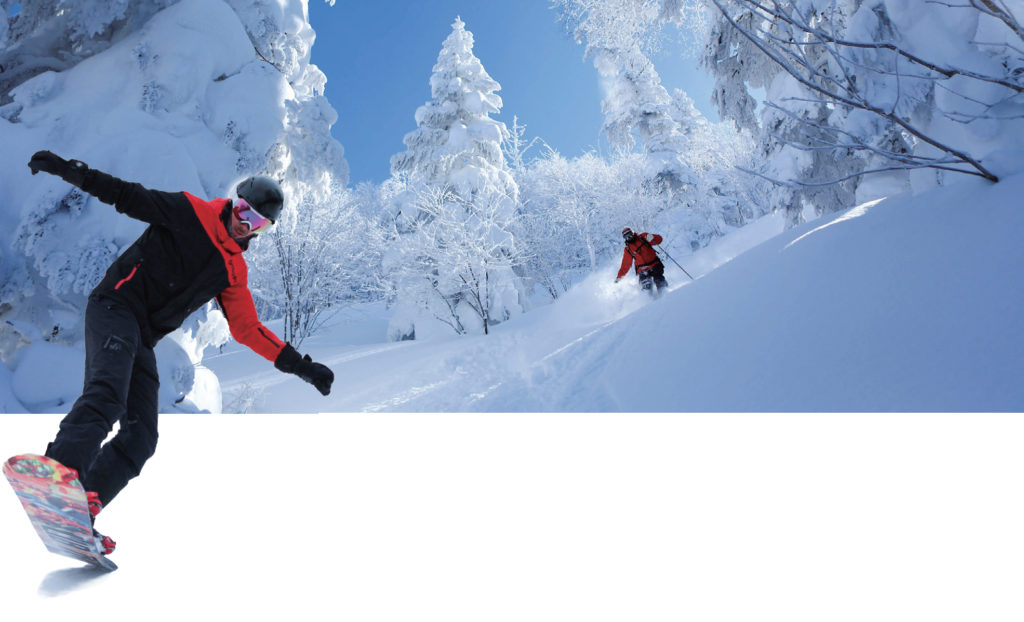 HAVE THE ULTIMATE RESORT EXPERIENCE AT OKUSHIGA
Nagano prefecture boasts a myriad of popular ski resorts, such as Hakuba, and Nozawa Onsen. It also happens to be home to the largest ski resort in all of Japan with over 50 gondola lifts—Shiga Kogen. This ski resort is not only the biggest, but is also located at the highest altitude of all Japanese ski resorts with lift access. Shiga Kogen has the unique characteristic of having most of its ski areas located deep within the mountains at over 1,500-metres in altitude. Often, when snow conditions are less than desirable at other ski resorts in the same prefecture, Shiga Kogen can have amazing snow to shred up. The potential for the best powder snow, coupled with the amount of time it will take to conquer all of the expansive areas means it would be wise to consider an extended stay here to experience everything the resort has to offer.
Shiga Kogen's location deep within the snow-rich mountains means that there are no towns close to the resort, however, there are many unique accommodation facilities in the area to make up for this. One of the most renowned areas in Shiga Kogen that offers the ultimate resort experience is Okushiga, which is found deep within the region.

Due to its location deep within Shiga Kogen, and the necessity to traverse many other courses to reach it from the centre of the region, many visitors never make their way to Okushiga when they visit on short trips to the region.When compared to central Shiga Kogen, where large-scale ski resorts are concentrated and plentiful, Okushiga offers a far more relaxed experience, allowing visitors to bat away the crowds of the other areas and cruise around this quieter one. Okushiga also has a cult-following as it offers the best long-run courses in the area. The chances of you going to sleep on a snowy night and waking up to top-class powder snow the next morning are also quite high.
There are a variety of drawcards to the courses found here. From courses featuring slopes as sheer as 30 degrees to challenge expert snow-sport enthusiasts, to gentle long courses for beginners and kids to enjoy, there's something to keep everyone entertained. The areas just off the chair lifts offer fun powdersnow courses following snowfall, and a Japanese ski magazine has also visited the area to take photos for a special feature on powder-run techniques for this very reason. Okushiga can be separated into two areas, one that has a gondola to take you straight up to the top for those who want to shred run after run, and the other featuring a medium slope for those who want to enjoy a high-speed shred down.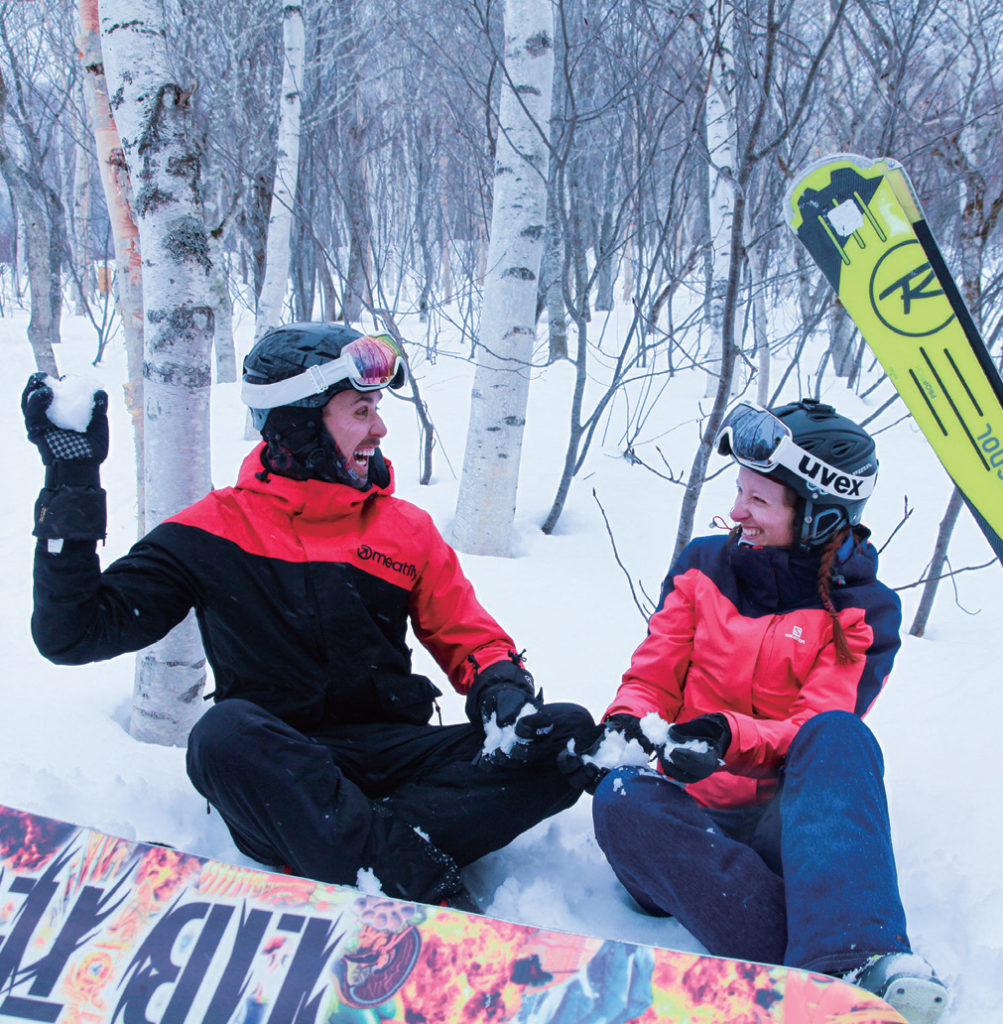 The neighbouring Yakebitai area, connected at the mountain's peak, also features a variety of courses with two gondola lifts servicing them. Setting up base in Okushiga Kogen whilst also visiting Yakebitai is already a full day's worth of fun in itself. It is very much possible to move on to other areas from there, but the sheer size of the area means you would have to draw up an organised schedule to ensure that you make it back in time. There are shuttle buses constantly in operation in Shiga Kogen, so that back-up option is always there if your plans go awry.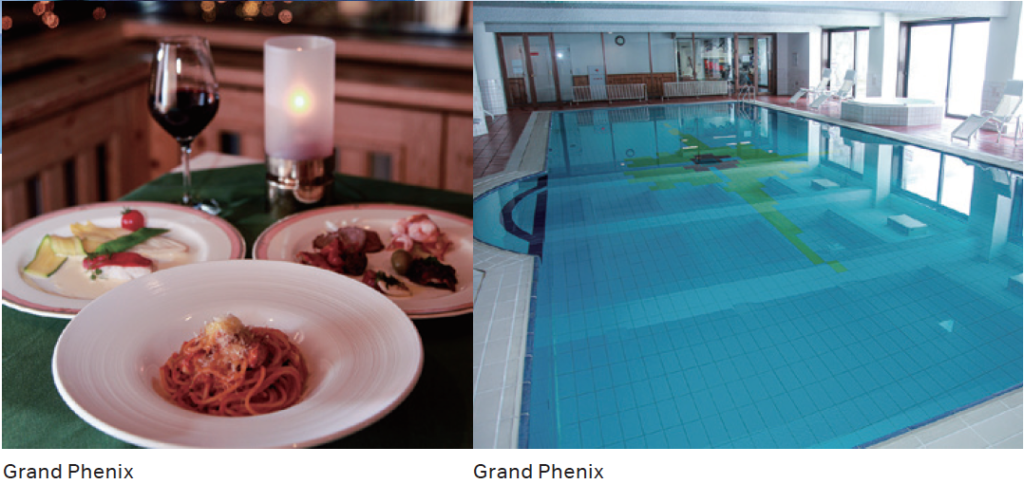 There is also the Shiga International Ski School in Okushiga offering skiing and snowboarding lessons for kids and adults, taught by international instructors, so you can rest at ease if snow sports are not your forte.
While the ski runs are highly appealing in their own rights, the biggest, unique drawcards of this area are the two hotels at the bottom of the slope offering ski-in ski-out facilities.
Okushiga also has a cult-following as it offers the best long-run courses in the area. Grand Phenix
One of the hotels is known as the finest resort hotel in the area—Hotel Grand Phenix Okushiga. This long-renowned, hotel of nobility is loved by famous guests such as the Japanese royal family, and is also frequented by the world-renowned conductor, Seiji Ozawa. This prestigious guest list exemplifies the exceedingly spectacular accommodation experience this establishment offers. The guest rooms have been made with comfort in mind and feature wood in abundance to create a calming atmosphere, whilst the convenience of ski-visitors has also been considered with all rooms featuring walk-in closets. Guests here don't have to worry about where to put their ski gear when they arrive for the ski season. Inside the hotel are three restaurants sourcing prized ingredients from all over Japan, such as the gourmet trove of Shinshu, as well as all over the world. These restaurants offer Italian, Japanese, and Chinese cuisine to tantalise your tastebuds. The lounge bar is also popular amongst guests who enjoy gathering around the large fireplace to chat the night away. There is nothing quite as luxurious as having a drink by the fire and soaking up the air of opulence after a skiing session. With an indoor heated swimming pool, and an open-air hot spring for a private soaking, Hotel Grand Phenix Okushiga offers a variety of facilities for all guests to enjoy their stays.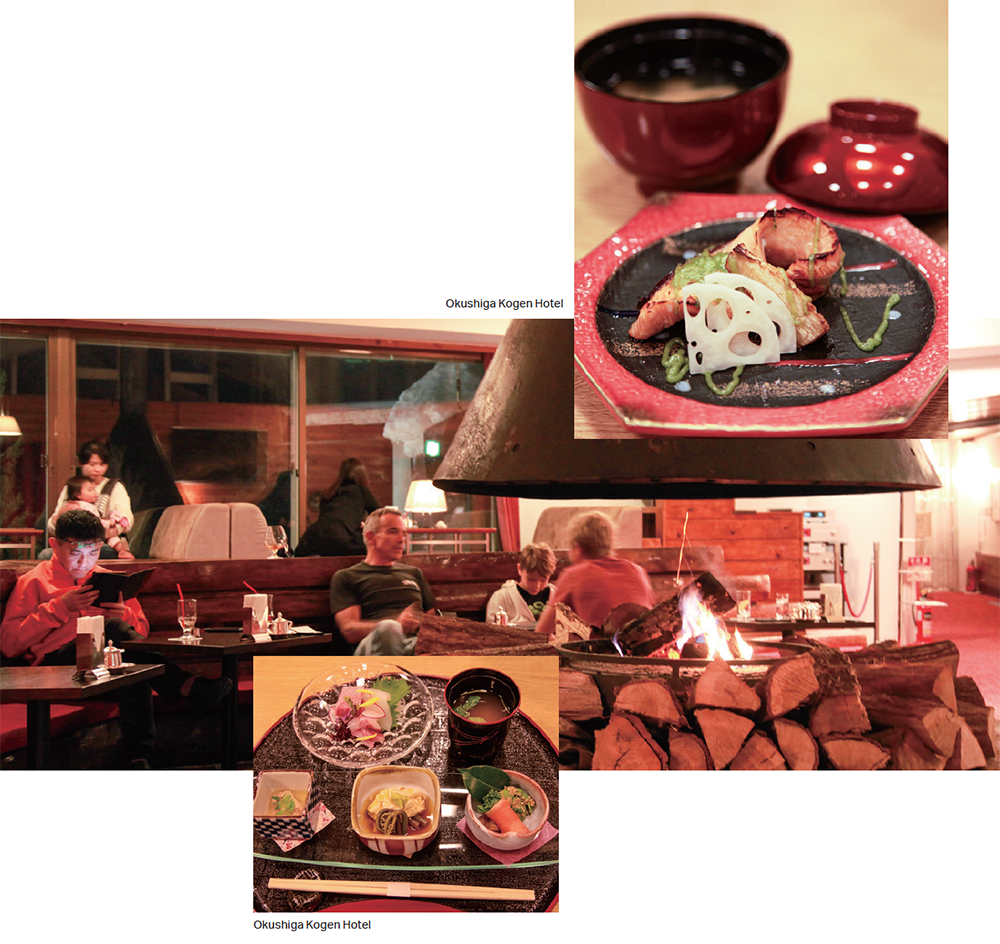 The second hotel is the Okushiga Kogen Hotel. This hotel is directly operated by Okushiga Kogen Ski Resort, and features a variety of lavish facilities such as spacious rooms, an open-air hot spring to gaze upon the great outdoors, and even its own lounge bar with a fireplace, making it rival the Grand Phenix in its own right. Guests can choose from three different restaurants serving French cuisine, Japanese cuisine, or teppanyaki (where the chef cooks in front of patrons seated at the hot-plate counter).
Both of these hotels are popular for capturing the atmosphere of a European ski resort, whilst also offering the quintessentially Japanese custom of comprehensive hospitality. Many guests visit either of the hotels to sit back and relax at their respective lounges oozing elegance and enjoy the fireplaces ablaze. As a rule of thumb, for those who are after a quiet experience to bask in their time of luxury— choose the Grand Phenix; for those looking for a casual lounge experience whilst listening to some music—head to the Okushiga Kogen Hotel. While the Grand Phenix allows guests in their lounge to enjoy their time in peace and quiet without interruptions, the Okushiga Kogen Hotel organises for pianists to play in their lounge area. Both hotels offer different experiences to cater to different guests.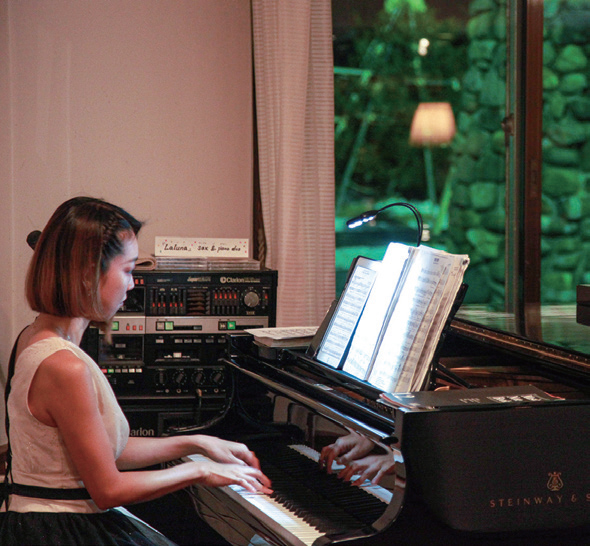 As the two hotels are within walking distance of each other, guests can enjoy the offerings at the restaurants and lounges of either hotel during their stay. For the ultimate experience in Shiga Kogen, make plans to set up base at Okushiga and take full advantage of the area's numerous charms.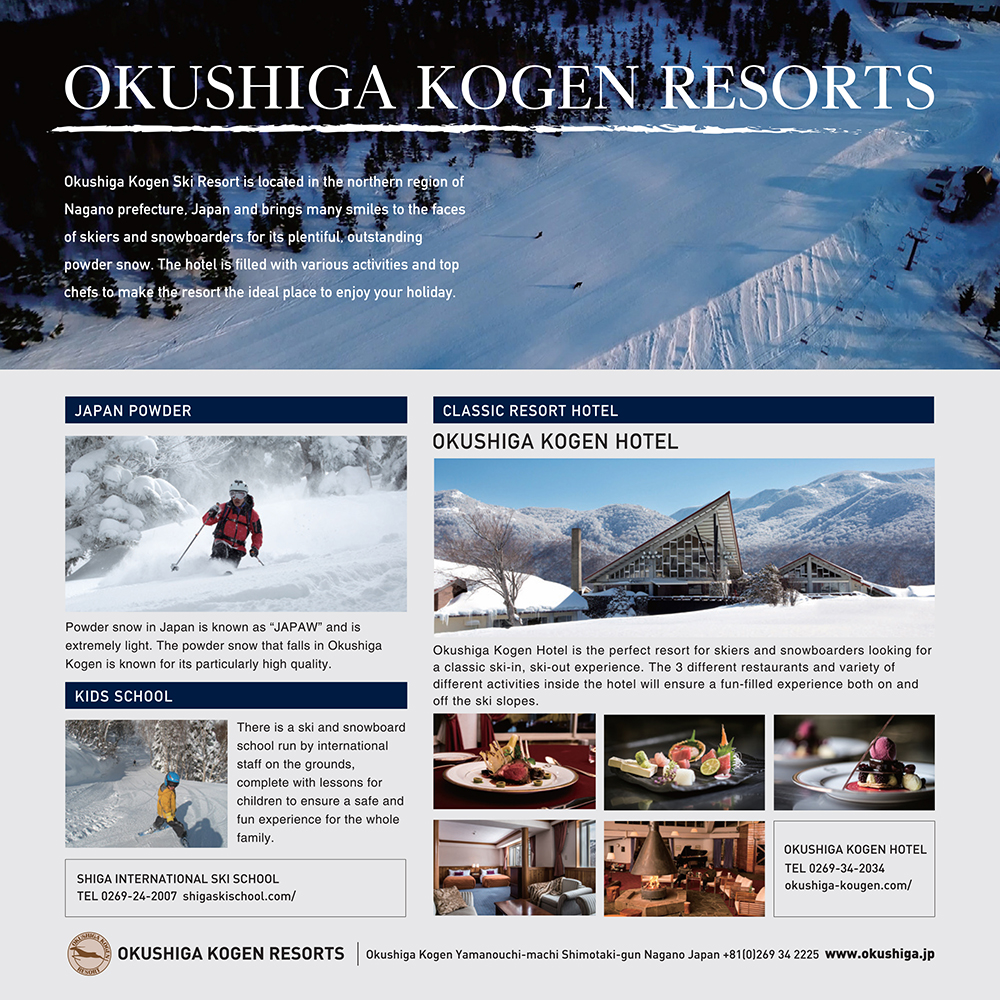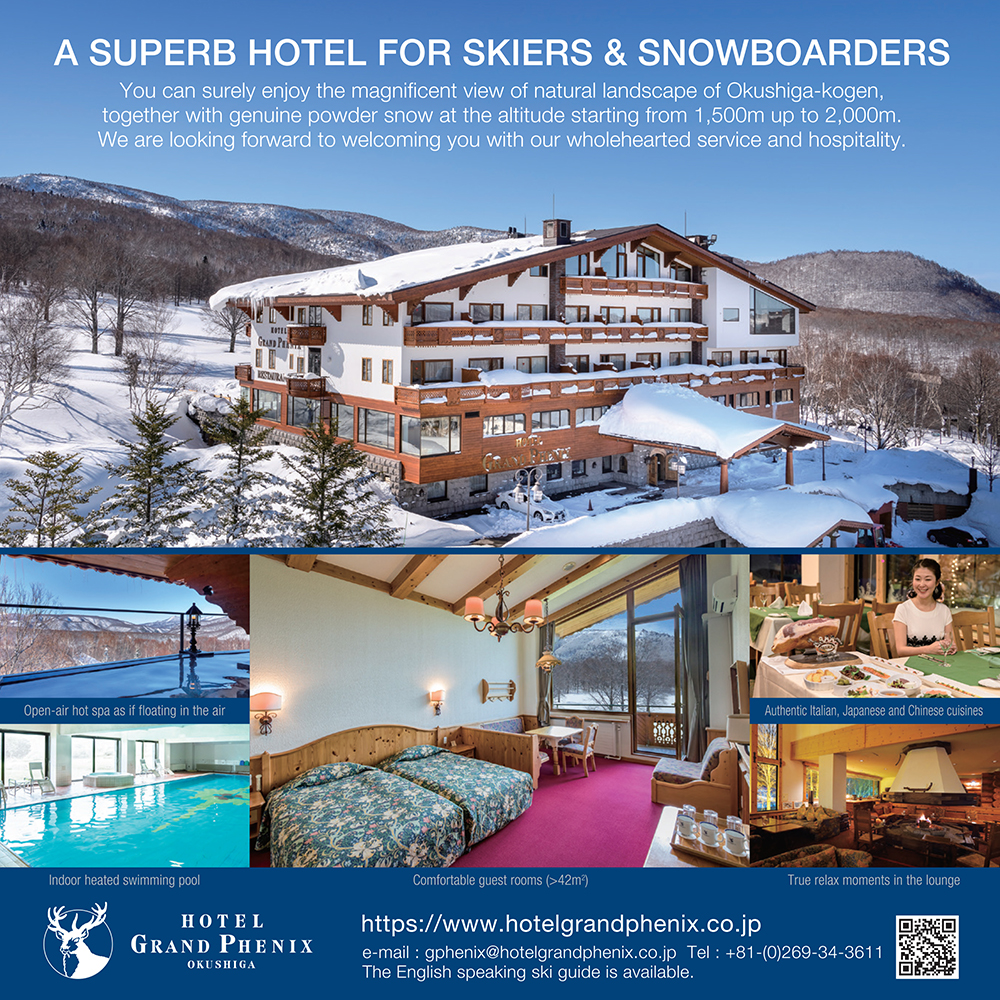 ---
A NEW GATEWAY TO SHIGA
One piece of trending news to come out of Shiga Kogen is the long-awaited completion of the gateway to Shiga, the Yama-no-eki resort gondola chair lift. Shiga Kogen acts as the base for many visitors staying in the various major hotels dotted amongst the expansive resorts in the areas occupying it. While each of these areas are filled with their own unique charms, it would be near on impossible to visit all of the courses available when planning a short stay in just one of the areas, until now. The 2020/21 ski season saw the much-anticipated completion of the Yama-no-eki resort gondola chair lift. Yama-no-eki had originally served as a hub with shops, restaurants, and a bus stop, however, a downside of it was that it lacked easy access to a vital mainstay of the region— the ski slopes. The completion of the gondola chair lift now provides direct access from here to the central area of Shiga Kogen. This location may now very well act as the base station Shiga never had and provide a gateway to various areas in the region.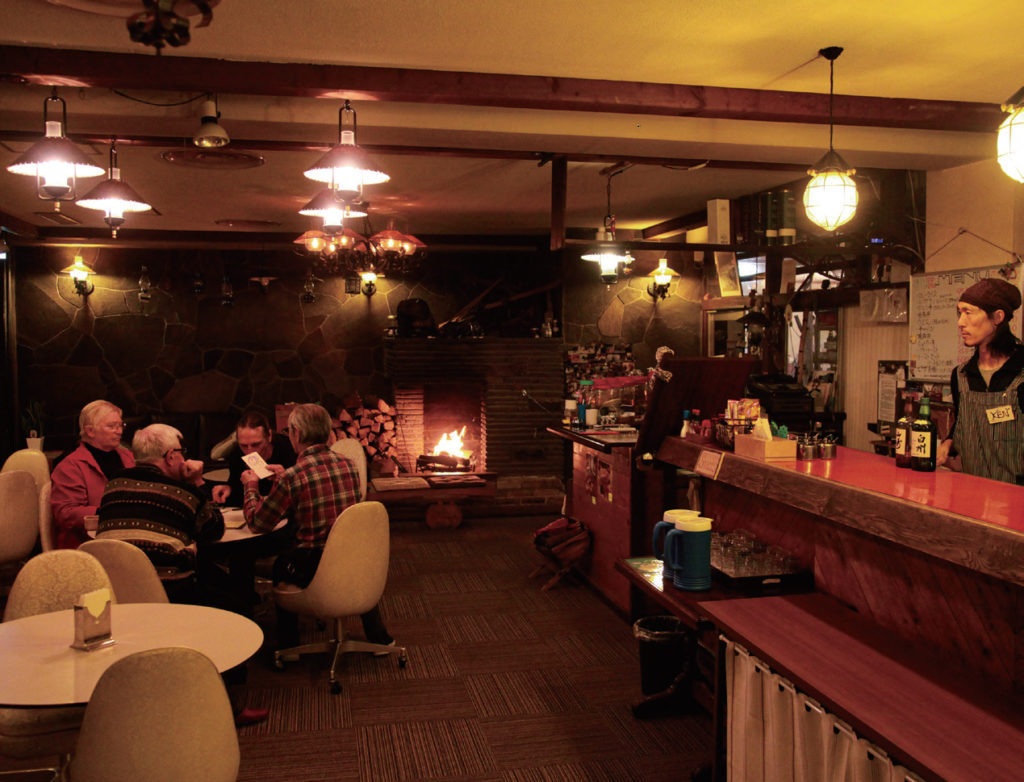 Yama-no-eki serves as an excellent gateway to the ski fields. Here you can find a restaurant, souvenir shop, convenience store, and an information centre, as well as free parking for approximately 500 cars, a ticket counter, snow gear rental, lockers, and changing rooms.
The Giant Area is an extremely steep course that can challenge even adept skiers and snowboarders.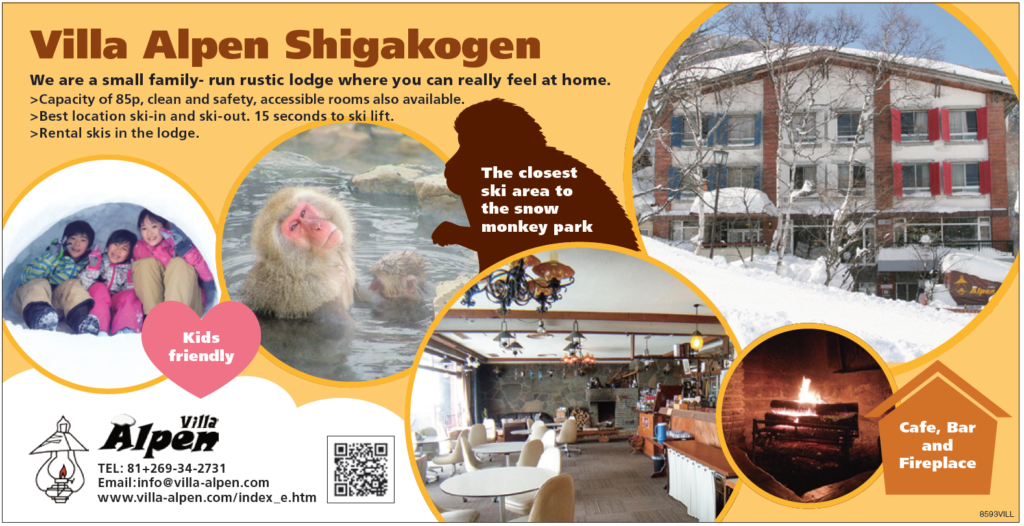 The gondola chair lift provides direct access from Yama-no-eki to the Giant Area, which is the main area connecting 15 ski slopes for smooth and easy movement between them. The Giant Area is an extremely steep course that can challenge even adept skiers and snowboarders, and is known as the most difficult slope in all of Shiga Kogen. Taking a single chair lift from the Giant Area can bring you to the Higashitateyama area, which boasts the longest run in the entire resort featuring gentle to steep inclines, moguls, and variety of other slopes to challenge you on your journey down. Travelling via this area or the Nishitateyama area, which is home to the World Cup course, makes for smooth access to the central area with runs such as the Ichinose Family slope or the Takamagahara Mammoth course. This central area has a well-balanced layout with the steeper courses, for more advanced skiers and snowboarders, in the upper region, and comparatively more relaxed courses towards the bottom. On the other side of the mountain, opposite the central area, is a hidden treasure known as the Terakoya course, which is said to have the best powder snow in all of Shiga Kogen.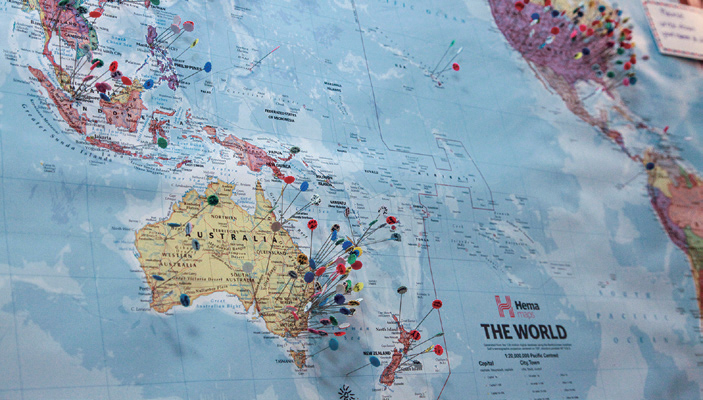 Over in Ichinose in the central area is the Ichinose Diamond Snowcan rental shop where there is a foreign exchange cash machine accepting 12 different currencies. Make sure you take note of this location to save you in a pinch, as there are some cases where credit cards cannot be used and you need to have cash on hand.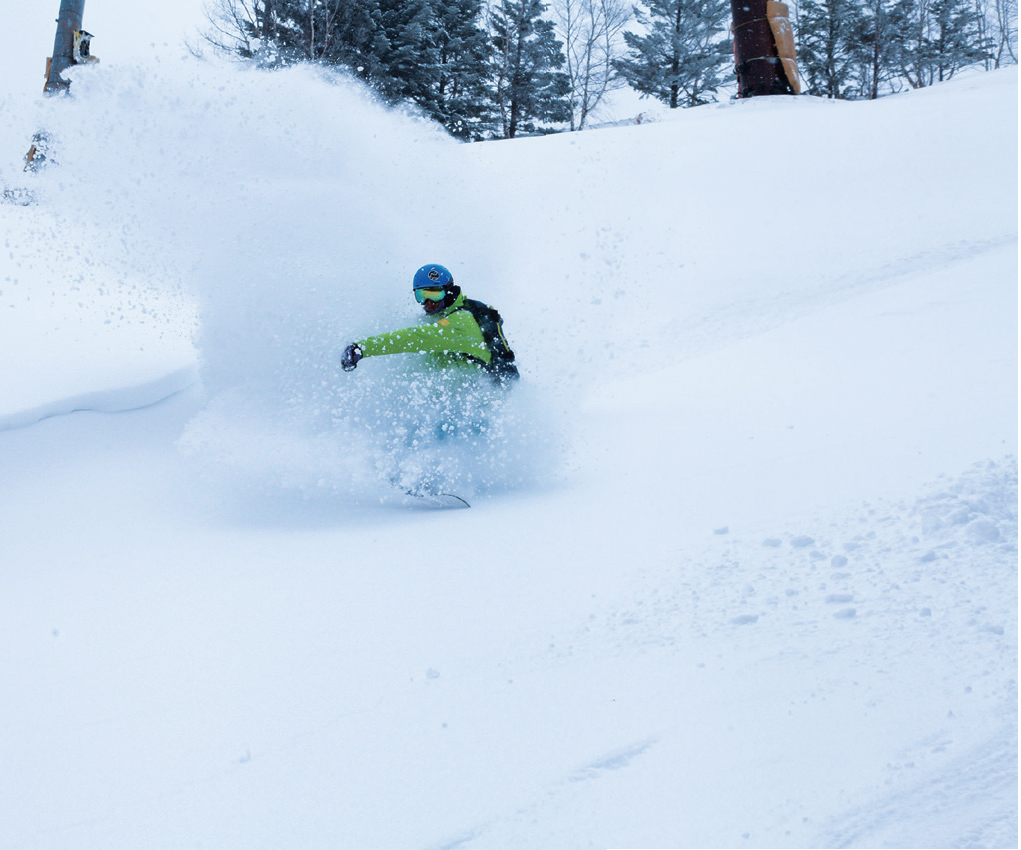 Back at Yama-no-eki, on the opposite area to the central ski hub, are a number of smaller, yet very much charming courses such as Maruike, which is known as the "Mogul Training Grounds" for its bumpy slopes, Hasuike, and Sun Valley. While there a number of accommodation facilities in this area vying for top place in the popularity stakes, Villa Alpen, in particular, sees many Australian guests frequent it. The owner of this establishment is Hideo Okazawa, a former pro-skier who is endearingly known as "Cap" amongst returning guests. While the facilities at Villa Alpen may be dated, the hotel continues to expand its fan base by providing a cosy bar with a fireplace, early check-in and late check-out options, and other careful considerations to ensure that guests have comfortable and worthwhile stays there. One such example of these considerations is that the hotel features fullyaccessible rooms, to keep it up-to-date with the changing times, despite its age. Villa Alpen is also accredited by the National Tax Agency, allowing foreign ambassadors, public officials, and other such staff to stay without being subjected to the 10% consumption tax.

Heading down the Shiga Kogen mountain leads to a popular tourist attraction—the snow monkeys. Travelling from other ski fields in Nagano prefecture would take a whole day to see the snow monkeys, but a trip from Shiga Kogen is barely a trek at all. Located 40 minutes from Shiga Kogen is the hot-spring area of Yudanaka Shibu Onsen, with its atmospheric townscape. Shiga Kogen can be accessed via bus from this hot spring town, providing the option of perhaps staying a few nights here.